To create a stunning and splendid look, there is nothing that matches bold statement lips. There are various lipstick colors and trends that are famous in today's fashion. Ladies of all age and gender have preferences of their own. However, generally most of us like to play with and try a variety of colors. We feel comfortable with bold colors such as red, maroon, pinks and even purples, but what about wearing black lipstick? Many ladies feel hesitant to apply black lipstick. But you know what? there is no reason to be afraid of experimenting with dark, black lipstick trend.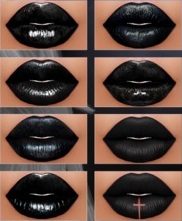 Black Lips Make You Attractive
Contrary to popular belief, wearing black lipstick is pretty versatile and looks gorgeous on every woman. And guess what? you can pair it with whatever you wear from jeans to an evening gown because black goes perfectly with everything. You just have to be bold and smart to apply it in the right way to stand out in every event.
One thing to remember is that your lips are the focal point, so avoid wearing bold makeup with black lipstick. Apart from that, black looks good on everyone and your skin tone doesn't matter.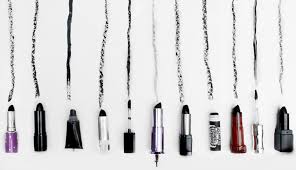 What Does Black Lips Symbolize?
When it comes to your beauty look, never hesitate to do what you want. Be bold and daring of applying black lipstick if you like it because it doesn't mean that you are an evil or negative person. It may show that you have a dark side. A dark sense of humor and you are not easy to amuse. So explore your darker side and unexpected parts of your personality and have a beautiful look.
Why would One have Black Lipstick?
Dark lipstick is beautiful, it's gorgeous and it gives the stunning and sexy look to the wearer. Black lipstick is getting trendy and it makes the lips look fuller and gives a dramatic finish to everyone. Why wear black lipstick? It's because it suits all kinds of outfits whether casual or formal and complements with simple and dramatic both makeup looks.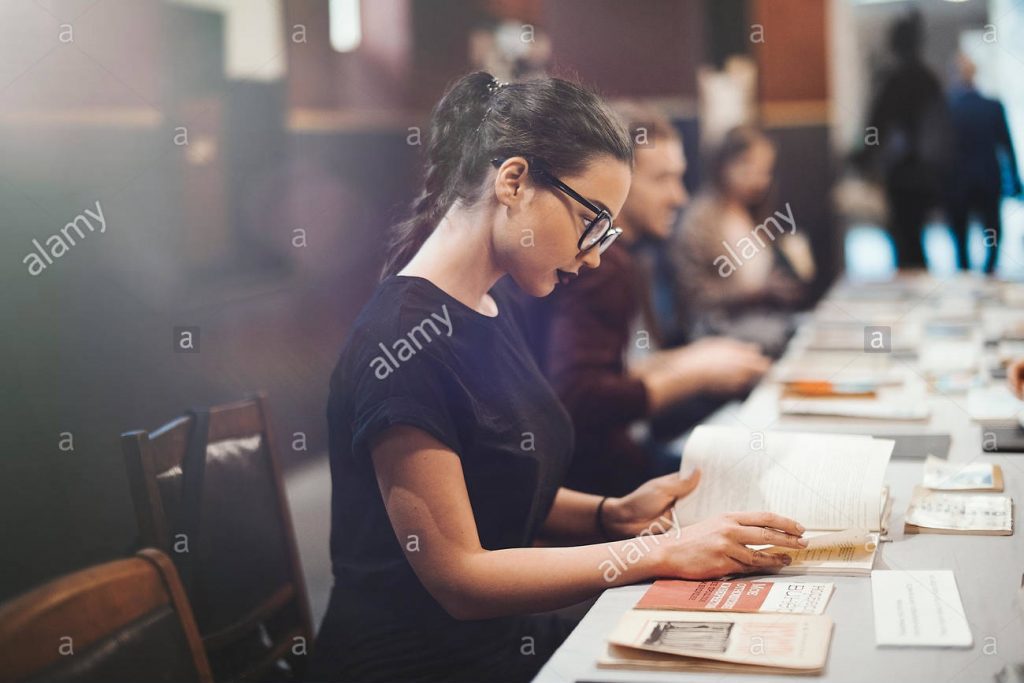 Wearing Black to Work?
Are you looking for a perfect look for work? Then black is probably the best color for you. Black lipstick gives a complementary look and you will feel confident and ready to work. You just need a trick to wear the black lipstick at work, use the right foundation and pair it with complementary makeup. Like with any other black accessory at work, the black lipstick works amazingly. It can revamp a boring peach or beige pantsuit and give a confident bold look to the wearer.
What Clothes to Wear with Black Lipstick?
Black is the color that goes with everything and the same is the case of black lipstick. But while applying black lipstick remember that your lips are the focal point and the rest of your look must compliment your lip's color. You can wear any outfit with black lipstick, but if you choose wisely it will give you a fantastic look. Generally, the cool, dark shades are good to combine with black lips. You can try to pair your black lips with the outfit in shades of plum, black, navy and dark green to get the best results of your personality.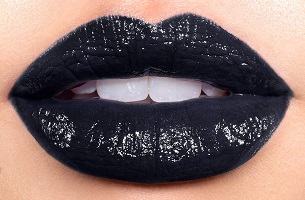 Black Lipstick on Fair Skin
Dark and black lipstick looks great on every skin tone and the same for the fair skin. The contrast between fair and light skin and dark lips always goes perfectly. If you have a fair complexion, black lipstick will be perfect for you. You just need to complement the black lipstick with some witty ways. You can apply a glossy lip balm or lacquer lips with a shiny lip gloss to have a perfect look. Make Up For Ever Rouge Artist Intense Lipstick in Satin Black is our pick for fair skinned beauties.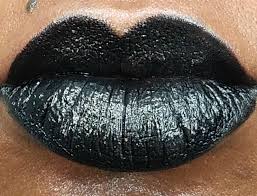 Black Lipstick on Dark Skin
Black lipstick is trendy and every woman wants to be in fashion. Can you wear black lipstick on dark skin? It's the question that comes to mind, and the answer is yes! Don't be afraid of experimenting with dark and black lipstick shades. It will give you a bold, gorgeous and sexy look. You just need to be sure to create a smooth and even complexion with your foundation and concealer. Keep the other makeup like eyes very light and simple to let the lips be the star of the show. Rouge Interdit Vinyl Lipstick, Noir Révélateur by Givenchy is one of our best black lipsticks for darker skin tones.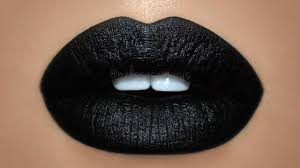 Black Lipstick on Brown Skin
For a brown skin tone, apply black lipstick and pair it with a soft, dewy face. Black lips with super dark eye makeup will give you a too heavy look. Go for a natural makeup look, only apply a full-coverage foundation, a light mineral makeup or a little bit of blush along with your black lipstick. Covergirl Katy Kat Matte Lipstick in Perry Panther is our personal favorite for brown, wheatish, Asian skin tone.
Tips of Wearing Black
Applying a dark lipstick is tricky and needs you to be a little playful. Remember that once you finally figure out how to apply black lipstick, it will give you the look that you need to stand out.
Apply your lipstick and pair it with the right colors. When you apply black lipstick your lips will be the focal point so choose your outfit and other makeup wisely.
Always use a small, angled brush to apply the black lipstick. It will give you control over the application process and you can apply the lipstick in extreme precision. This trick will remove much frustration.
Perfect coverage is most essential while applying black lipstick. Because if your coverage is low the dark lipstick will appear uneven. Make sure to look at your lips in various angles and different lights before ending up the look.
After applying the black lipstick, ensure to set it. You can use a setting powder to setting spray to set your lips perfectly.
After applying the lipstick, pull out full-coverage concealer and by using small brush line your lips with it. It will make the edges smooth and also prevent lipstick from smudging outside all through the day.
To avoid dryness of lips, add a thin coat of lip gloss. It will keep the lips hydrated and prevent dryness.

Top 10 Brands for Black Lipstick
Good quality and branded black lipstick is something that will help you in getting the most perfect look that you are looking for. Some top black lipstick brands are:
M.A.C in Black Night
Sephora Cream Lip Stain in Night Bird
Urban Decay Vice Lipstick In Perversion
NYX Macaron Lippie in Chambord
Make Up For Ever In Satin Black
Maybelline New York Color Sensational In Pitch Black
Lime Crime in Black Velvet
Kat Von D In Nayeon
Bite Beauty Amuse Bouche Lipstick in Black Truffle
Covergirl Katy Kat Matte Lipstick in Perry Panther
Conclusion
Wearing Black lipstick are very trendy and if you want to apply, it, don't be afraid. Be confident in getting your favorite look and be a professional while applying black lipstick by following the above tips. You can wear black lipstick with any costume and at any event. Once you learn how to apply the black lipstick correctly, you will be amazed at how quickly you can get the most stunning and striking look. So, get ready to have your favorite trendy look and apply your black lipstick and stand out at the next occasion. Blog-Ox.