Oily skin is known to age slower but when it comes to makeup, it's quite a handful. Specially in case of highlighters, oily skin has the ability to go from fairy tale-dewy one minute to a glittery-greasy mess the other. Nonetheless, every problem has a solution and here we are today with a lot of solutions, tips and tricks for you to conquer the world of highlighting.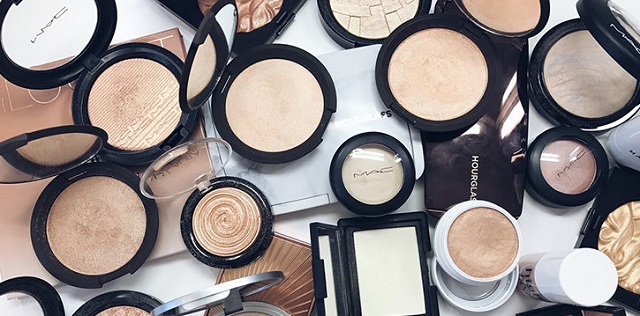 If there is one thing that is promising about highlighters is that there's one for everyone. There is an extensive variety of highlighters for every skin type, color, formula and finish u need. From Glam n Glitzy to Subtle Nudes there is a highlighter for everyone.
So, if you are looking for highlighters to go with your oily or combination skin, we have got you covered. This blog not only contains a collection of best highlighters for oily skin but is also a handbook of how to apply highlighters for oily skin to achieve the finest results.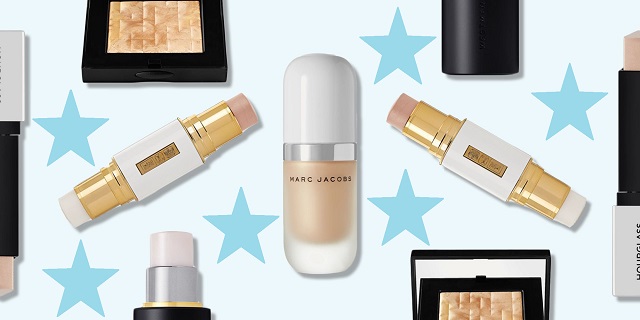 HIGHLIGHTERS FOR OILY SKIN – A STEP BY STEP GUIDE
Before applying highlighter on an oily or combination skin, it is necessary to:
Blot away any excess oil on your face. Use a blotting paper to set your foundation completely, prior to highlighter application.
Start with a mattifying product like primer and a matte foundation to give a matte look.
Tap your brush a little to dust off any excess product before application. Avoid putting on too much highlighter as it could give a sloppy look.
Make sure to blend your highlighter completely to give a seamless glow from within.
Avoid using cheap products. Drugstore brands are a treat but most of the time when it comes to highlighters, certain drugstore products can cause problems. These highlighters are often buildable and you end up using too much product that can make you look patchy or cakey.
After you are done, use a translucent powder or setting spray for the finishing touch.

Invest in good highlighters. Cheaper highlighters often tend to have glitter in them instead of shimmer. Which may create a greasy, over shiny look.
Highlight the right spots! If you are dealing with oily skin, try highlighting your upper cheekbones and stay away from the apples of your cheeks. Also, when highlighting the bridge of your nose, focus the center and stay away from the tip of your nose.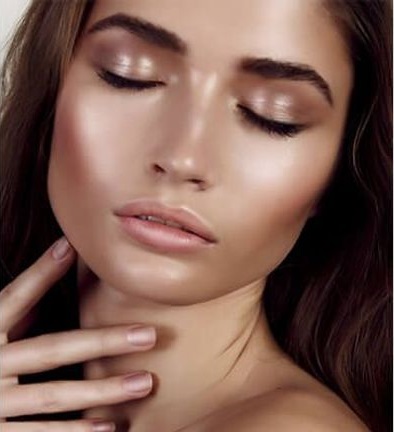 HIGHLIGHTER FOR OILY SKIN- CHOOSING YOUR PERFECT MATCH
The best type of highlighters for oily skin are the powder highlighters, as they not only give you the glow you desire but also blot off any excess oil on your face to give you a breeze, flawless finish.
In case of oily or combination skin types, it is better not to invest in liquid or cream highlighters. Because, the lighter the formula the better the finish.
Use a highlighter that matches your skin tone. A darker shade can build up to give a muddy look.

Fan brushes are the perfect tool to use for highlighters for oily skin. They not only minimize picking excess product but also totally blends in the highlighter.
Steer clear from highlighters that have comedogenic (pore-blocking) ingredients. Such products can aggravate your skin condition.
Avoid illuminating or glowy foundations to prevent making your face look greasy.
BEST HIGHLIGHTERS FOR OILY SKIN
Glow up from within with these 13 amazingly pigmented highlighters that work wonders for oily skin.
Contour De Force Mini Highlighter by SUGAR Cosmetics
Glow like a Goddess with this amazing highlighter by Sugar Cosmetics. Contour De Force Mini Highlighter is a dermatologically tested product which is free from mineral oils and parabens, thus making it one of the best highlighters for oily skin. It has a buttery, soft lightweight formula which glides on effortlessly and blends in oh so smoothly, giving you the flawless look, you desire.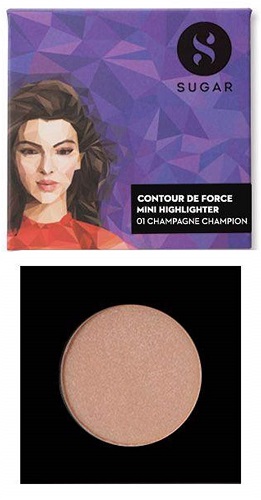 This highlighter comes in 4 amazing shades; Champagne Champion (Champagne Gold), Gold Glory (Golden Bronze), Metal Medal (Soft Gold) and Royal Rose (Rosey Taupe).
Filmstar Bronze & Glow Contour Duo by Charlotte Tilbury
Charlotte Tilbury never disappoints with their amazing cosmetic products and same goes for this beautiful Bronze & Glow duo pallet. This product contains both a bronzer and a highlighter and gives you the Filmstar look just as promised.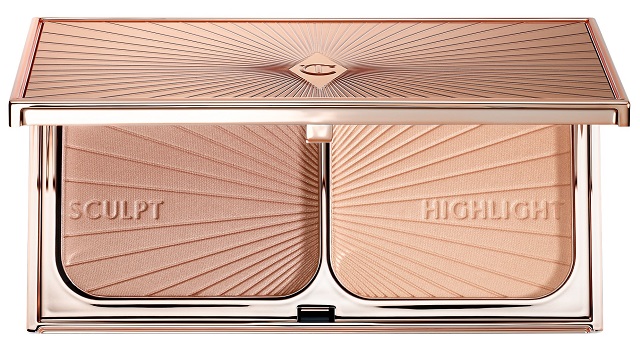 This highlighter is free of paraben, sulphates and mineral oils. It comes in a pressed powder form, is easy to apply and a perfect way to give you the red carpet look in a go.
Mary-Lou Manizer by theBalm Cosmetics
Next on our list of highlighters for oily skin is this stunner by theBalm Cosmetics. The Mary-Lou Manizer Highlighter is a gorgeous option for your oily skin as it controls the oil and leaves your skin with a subtle glow, making you fall in love with it.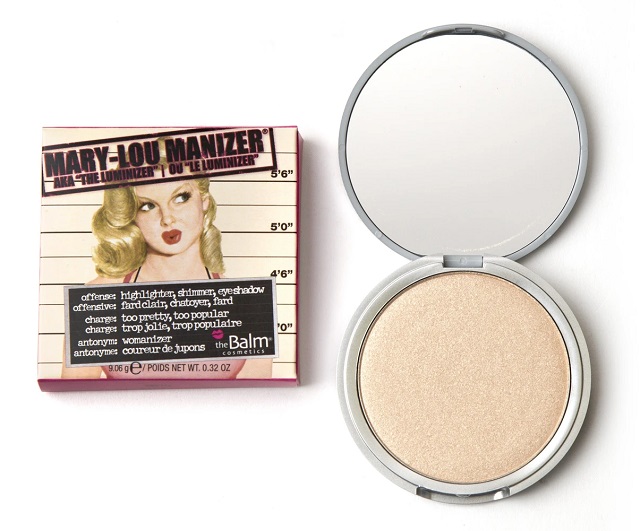 This highlighter comes in three beautiful pigmented shades and flatters a wide range of skin tones. It comes in handy for an every-day look, especially, if you are a no makeup – makeup look person this is the best choice for you.
Facestudio® Master Chrome™ Metallic Highlighter by Maybelline
If you are in search of a blinding highlighter, this beauty by Maybelline is to die for. The metallic highlighters by Maybelline are heavenly highlighters for oily skin. They amp up your facial features like nothing else giving you an instant face lift.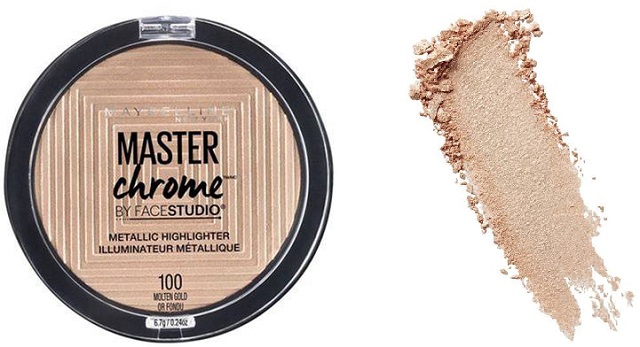 This highlighter is available in five different shades (Molten Gold, Molten Peach, Molten Topaz and Molten Rose Gold) and they have a match for almost every skin tone.
The metallic pearls in the highlighter blends completely to give a brilliant sheen. The highlighter is super pigmented and you can achieve the heavenly glow in a single swipe.
MegaGlo™ Highlighting Powder by Wet n Wild
Infused with the benefits of Vitamin E, Argan oil and Shea butter, the Wet n Wild MegaGlo™ Highlighting Powder is a treat for your skin. The micro fine pearls and murumuru seed butter in it nourishes your skin from within giving a divine glow.
This highlighter comes in the form of a pressed powder and has a buildable yet smooth finish. The formula is weightless and blends seamlessly into the skin to give a natural, dewy finish.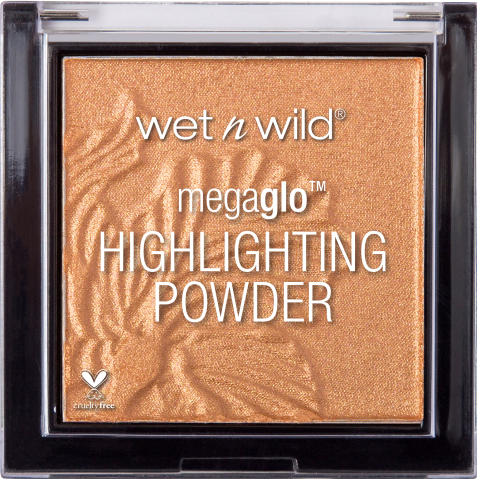 The product is offered in a variety of shades that caters almost every skin tone. The MegaGlo™ Highlighting powder not only gives an instant lift but also brightens up your face giving it a fresh glow.
The product has a matte finish which makes it a perfect highlighter for oily skin.
Prep + Set + Glow Illuminating Face Powder by MILANI
On your mark… GET, SET, GLOW!! With this 3 in 1 power pack product by Milani get yourselves ready to glow from within. The Milani Illuminating Face Powder is an all-in-one tool to get your glow in one go. The first swipe primes your skin, while the second coat sets away your look, all this while giving your face the radiant glow it needs.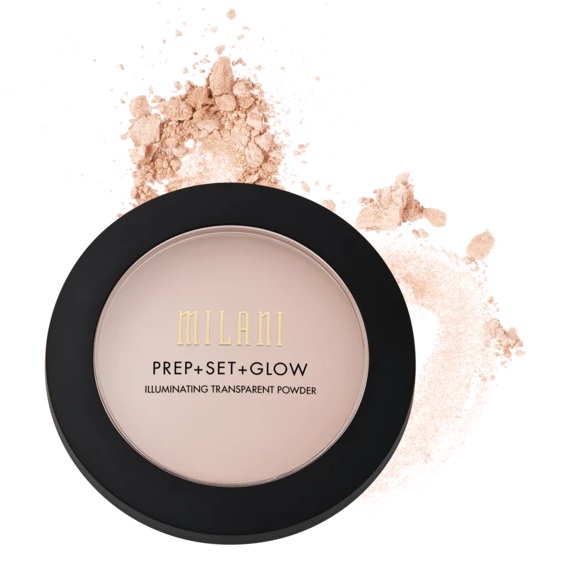 It blurs away imperfections making your skin look fresh and dewy while adding a luminous shimmer to it. It is free of parabens, preservatives and without any oils to prevent any breakouts which is why this stunner by Milani surely stands out in our list of highlighters for oily skin.
The formula is light weight, buildable and easy to blend in. This highlighter is suitable for a variety of skin tones and skin types.
True Match Lumi Shimmerista by L'Oréal Paris
The L'Oréal Paris True Match Lumi Shimmerista Highlighting Powder is a beautiful, fine loose highlighting powder. The lightweight formula controls any excess oil on the skin giving a prismatic finish.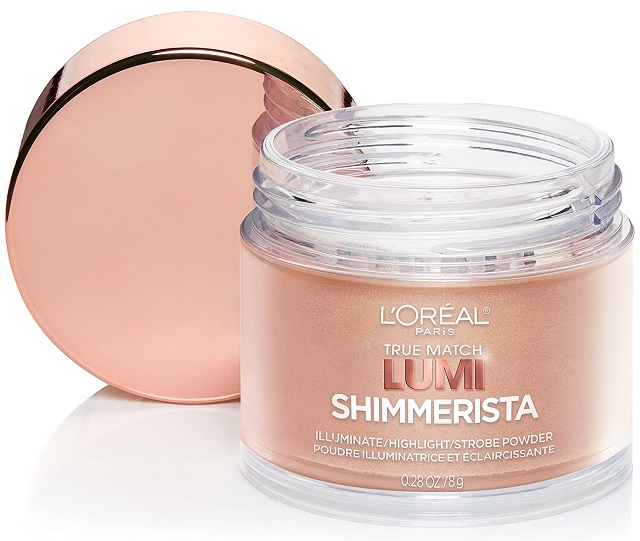 The highlighter is available in two different shades i.e., Moonlight (cooler tone) and Sunlight (warmer tone). This highlighter can be used to give an instant lift and brightening effect to your facial features as well as an eye shadow to give a pop to your eyes.
Ambient™ Lighting Palette by Hourglass Cosmetics
Talking about highlighters for oily skin, this can never be missed. The Ambient™ Lighting Palette by Hourglass is a subtle highlighting palette which is a combination of 3 different shades.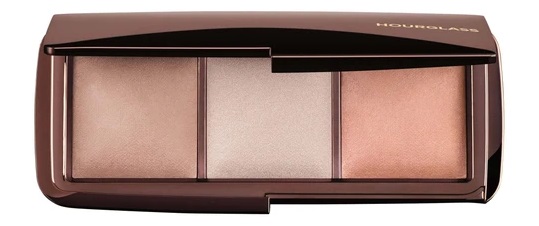 Dim Light subtle any imperfections to give an overall smooth look, Radiant Light as a contour to enhance your best features and finally Incandescent Light to highlight the brow bone, cupid's bow and bridge of your nose to give a brightening effect.
The product comes in the form of pressed powder and has a light weight formula which blends in completely to give a soft, youthful glow.
Utilizing the photo-luminescent technology, this palette filters out and diffuse harsh light. It delivers multidimensional luminescence to all skin tones giving an ethereal radiance.
Aurora Borealis Highlighter Kit by TZ COSMETIX
Next on our list of highlighters for oily skin is the Aurora Borealis Highlighter by TZ COSMETIX. This kit comes in six incredible powder shades. The formula is soft and wet to touch which blends in easily into the skin.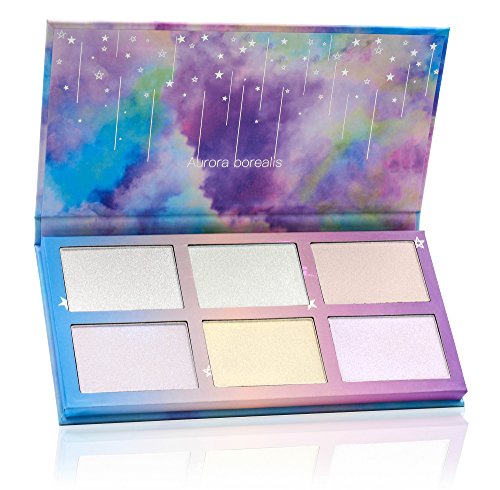 The metallic hues make this kit a dream come true for the highlighter daredevils. It contains a varying collection of Yellow gold to icy greens and lilac pinks. The iridescent colors cover up the pores and give a flawless metallic sheen.
The formula is light weight and buildable. All the colors are super pigmented and a little product goes a long way.
Magical Halo SHIMMER STICK by NICEFACE
If you are looking for a natural subtle glow, this is the product for you. The SHIMMER STICK by NICEFACE is a stick highlighter which is easy to use and has a subtle glow.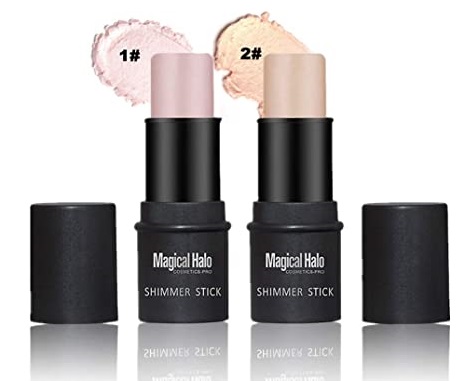 The formula is lightweight, creamy and blends in effortlessly. The highlighter stick comes in 2 shades; 01 a pearly pink and 02 a light gold color. The stick is waterproof and is suitable for everyday use. The subtle shimmer makes your skin look naturally radiant and fresh.
Strobe of Genius Illuminating Palette by NYX Professional
This incredible palette by NYX gives you all that you need to achieve the perfect strobe. The Strobe of Genius Illuminating Palette is actually a genius when it comes to strobing.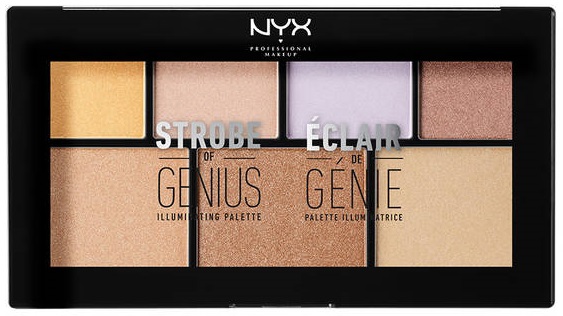 Coming with seven eye catching shades, this stunner by NYX accommodates people of every skin tone and complexion. Ranging from gold and champagne shimmers to pinkish and lavender hues this highlighting palette makes you glow like never before.
The velvety soft formula blends in completely giving a radiant glow. The highlight is buildable and can also be used as an eyeshadow.
Matte Radiance Baked Powder by Laura Mercier
The Laura Mercier Matte Radiance Baked Powder is a bronzer and highlighter which sets on the skin to give a natural sun kissed glow. The product comes in form of pressed powder and is perfect for an everyday no makeup, makeup look. The ultimate matte finish makes it a perfect highlighter for oily skin.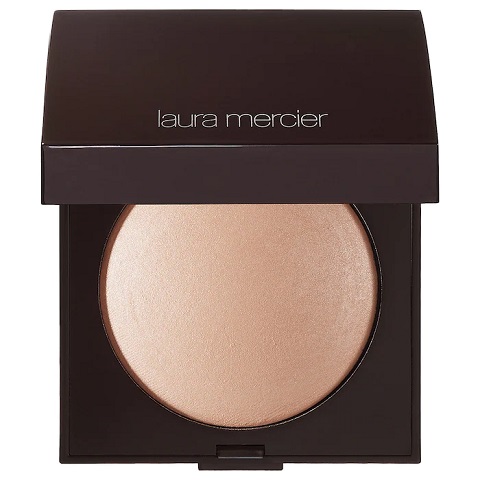 This highlighter is suitable for all skin tones and types. Long lasting formula that lasts all day without oxidizing.
Shimmering Skin Perfector® by BECCA Cosmetics
The Shimmering Skin Perfector® by BECCA Cosmetics is undoubtedly the showstopper in our list of highlighters for oily skin. The buttery formula glides smoothly onto the skin blending evenly to give an out of the world glow.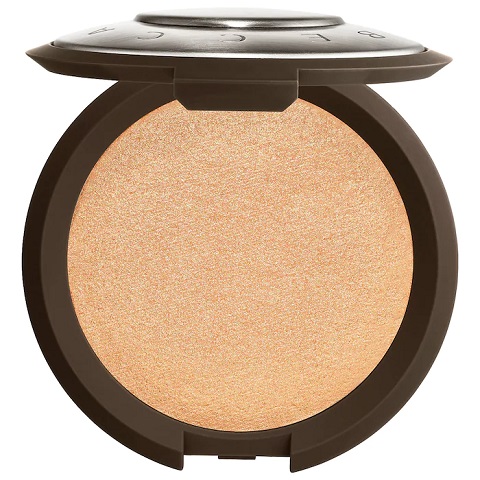 Coming in a wide variety of 10 different shades, this beauty by BECCA Cosmetics is a perfect match for all skin tones and types. With a buildable glow, this highlighter lasts all day long, making your skin lit from within.
Formulated without artificial fragrance, parabens and mineral oils, The Shimmering Skin Perfector enhances your facial features giving you a natural illuminance. The formula is suitable for everyday use and can also be used to glam up your special days.
Conclusion
Check out any of the above highlighters and rock your look without the fear of looking messy or cakey, ever again. You Glow Girl! Blog-Ox.