Hello beauty fam! Here we are, again, with another extension of the topic, highlighters for dark skin tones. Today's blog is all about some of the best highlighter palettes for dark skin tones. We have finalized these seven palettes keeping in mind, their texture, pigmentation, affordability and their ability to enhance and add on an out worldly glow to your dark skin tone.
Highlighter palettes are a great thing to invest in. Not only do they have a variety of colors, combined, but also, they are economical in comparison to buying each highlighter color separately.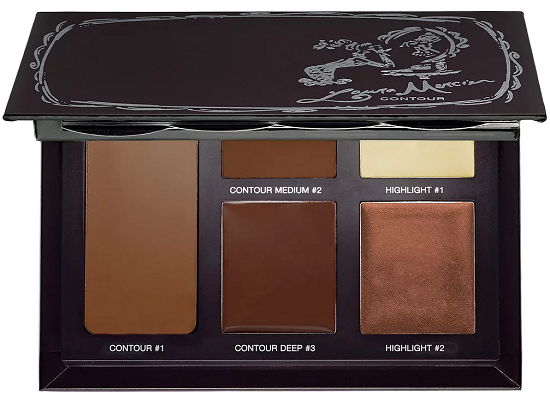 Highlighter Palettes – What are they?
Highlighter palettes contain complementing shades of bronzer, blush and highlighters to achieve a complete look in one go. The best part about a highlighter palette is that it saves you from figuring out the shades that balance each other. All the parts of a highlighter palette are chosen in colors and tones that goes well with each other, hence giving your skin a unform, radiant glow.
Not only this, but a highlighter palette also saves you the hustle of carrying too many cosmetic products in your vanity. Everything you need to create a glowing look is put together at one place.
Using Highlighter Palettes – A Step by Step Guide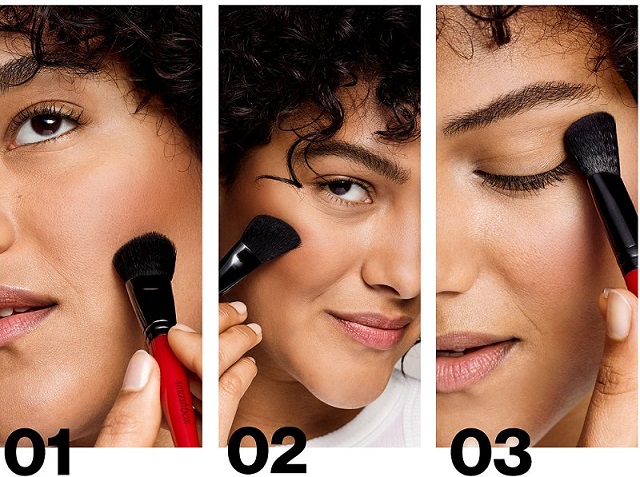 Although using a highlighter palette is not very difficult but let us give you a step-by-step guide for beginners. You can either use all the colors in a highlighter palette individually or you can layer them together depending upon your choice. If you want to use them all together and confused how to do so, let's take a look below.
Step 1 – Prep your skin
First things first. To achieve a flawless look, prime and prep your skin by applying the primer and foundation according to your skin tone.
Step 2 – Bronzing
If you like contouring and bronzing, then do it before highlighting your face. Pick the darkest color on the palette and use it to bronze your face. You can bronze your face with the help of an angled brush or whatever tool you prefer. Apply the bronzing shade to the temples sweeping it below the cheek bones. Add it to the sides of your nose and your jawline. Now blend it enough to smooth out any harsh lines.
Step 3 – Base Highlight
Now let's move on to highlighting your face. Begin with a natural shade, that looks subtle in comparison to your skin tone and add it on the center of your forehead, on the chin and above your brow bone, in a light sweeping motion. This gives your face an instant lift and helps you get a fresh and youthful look.
Step 4 – Precise Highlight
Once you are done with the broader features take a precision brush and add the lightest color on the palette (can be glittery or not, as per your choice) to the inner corner of your eyes, on the tip of your nose, below the brow arches, above your cheek bones and on the cupid's bow. Highlighting the smaller, precise parts of your face brightens up your face and helps bring forward your best features.
Step 5 – Add Some Color
And to end it, pick the blush color from your highlighter palette and dust it with a blush brush on the apples of your cheeks to give a subtle tint.
Highlighter Palettes for Dark Skin – 7 Palettes to Die For
Now that we have a basic know how of the highlighter palettes let's check out some of the best highlighter palettes for dark skin tones.
3D HIGHLIGHTER PALETTE by HUDA BEAUTY– Bronze Sands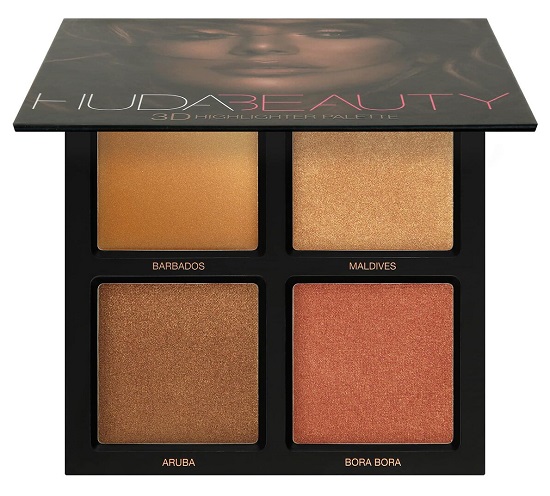 First on our list of best highlighter palettes for dark skin tones is the 3D Highlighter Palette by HUDA BEAUTY in the shade Bronze Sands. The palette has 4 colors and each of them has a bronze base which makes it ideal for the deeper skin tones. You can use the shades separately or can layer them together to create a multi-dimensional look.
The colors included in this palette are as follows:
Barbados– The Base Highlighter: It is a cream highlighter which sets the base for the other three highlighters. The color has a pearlescent sheen which can used to prep the skin and amplify light.
Maldives– The Precision Highlighter: It is a gold, powder highlighter which can be used to set the base highlighter. Apply it from your temples towards the cheek bones to amp up your look.
Arora– The Bronzer: A bronze powder highlighter to sculpt your face. Apply Arora under your cheekbones to give dimension to your look.
Bora Bora– The Blush: This is a rosy shade which can be used to add a final touch of color. Sweep this on the apple of your cheeks for a healthy look.
FACE PALETTE by The LIP BAR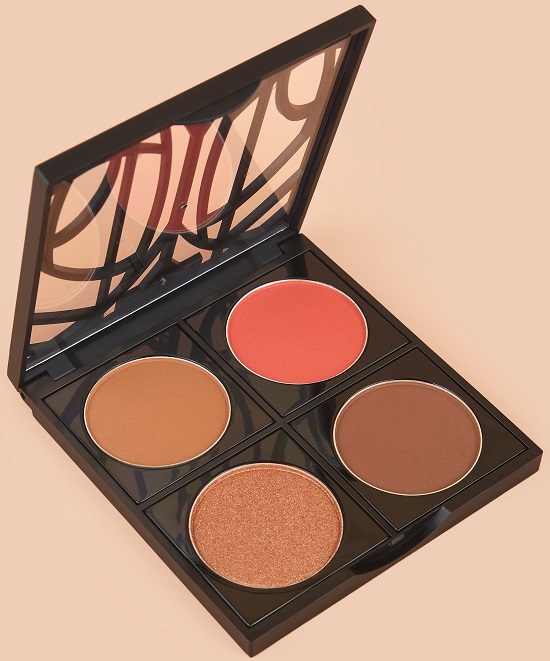 The 4 in 1 face palette by The Lip Bar is designed keeping in mind the deeper skin tones. Available in 6 easy to use, complexion coordinated quads, each palette comes in 4 shades. The product is designed to give you a complete makeup look, within no time.
In terms of Highlighter palette for dark skin tones, they offer 4 palettes i.e., Squad Goals, Vogue, Stuntin' and Boss Moves. Each Palette caters a different class of the deeper skin tone.
The colors in each palette are as follow
| | | | | | |
| --- | --- | --- | --- | --- | --- |
| Lip Bar Palette | Complexion | Base Highlighter | Precision Highlighter | Bronzer | Blush |
| Squad Goals | Ebony | Ebony-hued | Shimmering Copper | Dark Brown | Brick Red |
| Vogue | Mocha | Mocha-hued | Shimmering Gold | Dark Brown | Brick Red |
| Stuntin' | Cinnamon | Cinnamon-hued | Shimmering Metal | Brown | Coral |
| Boss Moves | Caramel | Caramel-hued | Shimmering Citrus | Brown | Salmon |
DIOR BACKSTAGE GLOW FACE PALETTE by DIOR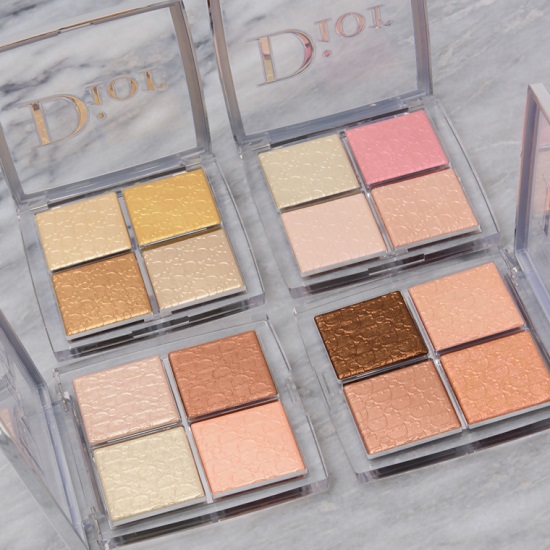 Another one of the best highlighter palettes for dark skin tones is the Backstage Glow Face Palette by DIOR. These multi use highlighting palettes adds up a natural, healthy looking glow to your skin. The formula is pigmented and buildable.
DIOR offers 4 different palettes to cater varying tones of the deeper complexion. These are: 001 Universal, 002 Glitz and 003 Pure Gold for all skin tones and 005 Copper Gold for dark skin tones only. Each palette contains four complementing colors that can be worn alone or together, for achieving dimension.
For the 005 Copper Gold palette, the colors are as follows:
Glitter Coral- The Base Highlighter: The pearlescent sheen is a subtle base highlighter which gives a fresh look overall.
Metallic Copper- The Precision Highlighter: A medium copper shade with warm undertones and metallic finish. Perfect for adding an oomph to your look.
Shimmer Tan Bronze- The Bronzer: A rich golden bronze with a luminous sheen, for sculpting your features.
Sheer Golden Bronze- The Blush: Medium copper with rusty tones to add a hint of color to your cheeks.
GLOWY & SHOWY N˚1 HIGHLIGHTER PALETTE by Scott Barnes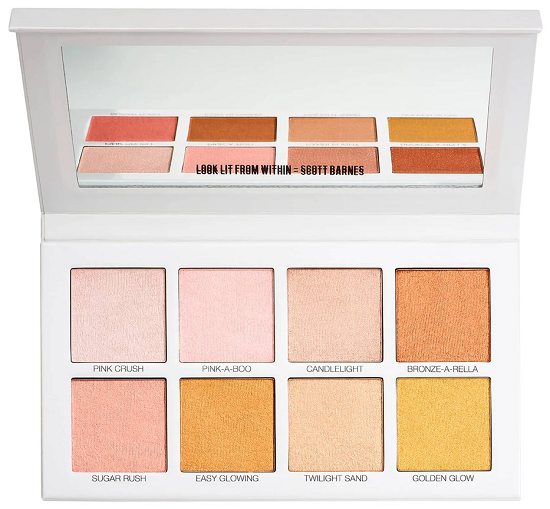 This Palette by Scott Barnes contains eight highly pigmented highlighter colors to flatter a variety of skin tones. The powders have a smooth finish and are easy to blend. The formula is designed keeping in mind the yellow and pink hues of different skins. This helps in creating the hue shifts according to your skin tone and desire.
In this palette, highlighters for dark skin tones are:
Candle light– A pearlescent shimmer with pink under tone
Twilight Sand– A pearlescent pinkish shimmer with yellowish hues
Bronze-a-rella– Shimmery Bronze Highlighter with hues of pink
Easy Glowing– Gold highlighter with a yellow under tone
All these shades can be used to accentuate medium brown, wheatish and honey complexions.
Tarteist PRO Glow to Go Highlight and Contour Palette by Tarte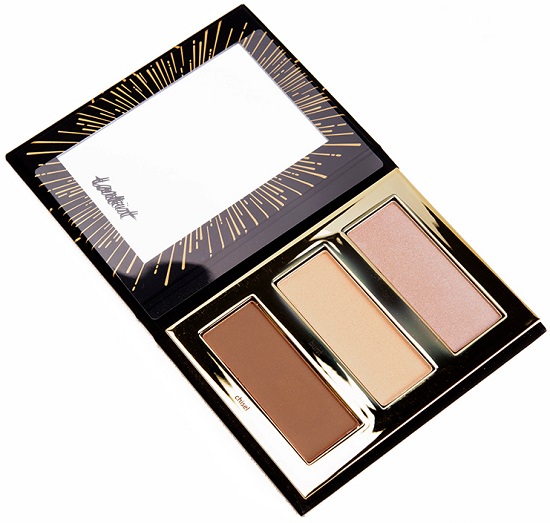 This 2 in1 highlighter and contour palette by Tarte is one of the go to highlighter palettes for dark skin ladies. The palette comes in 3 shades, which add a subtle glow to the skin and are perfect for every-day use.
Ideal for cooler under tones, the Tarteist PRO Glow to Go palette is rich in pigment, buildable and easy to blend. Bursting with the rejuvenating effects of Vitamin E, Coconut, mineral pigments and Amazonian clay, this highlighter palette is suitable for all skin types.
The Palette contains 3 shades, i.e.,
Gleam- Base Highlight: A pearlescent highlighter
Burst- Precision Highlight: A shimmering sand highlighter
Chisel- Contour: A matte contour
SYDNEY BATHERS KISS OF SUN PALETTE by NOMAD Cosmetics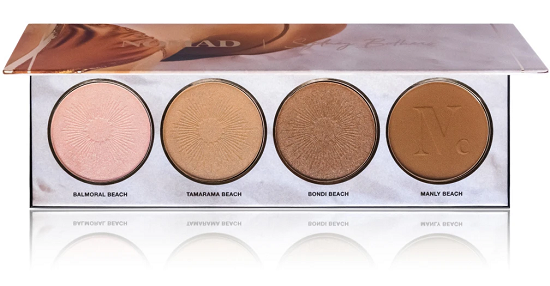 A sun-kissed highlighter palette for dark skin tones with 4 highlighting and bronzing powders to give you a natural glistening effect.
Made of skin friendly ingredients, the powders are easy to blend, buildable and have a smooth finish. The palette contains 2 highlighter and illuminator shades and 2 bronzer and contour shades. The details to which are as follows:
BALMORAL BEACH- Powder pink Highlighter with glistening pearls
TAMARAMA BEACH- Golden red Illuminator with champagne pearls
BONDI BEACH- Glowing warm Bronzer with golden pearls
MANLY BEACH- Rich chocolate matte for Contour.
LIGHT WORK-II Highlighting Palette by DANESSA MYRICKS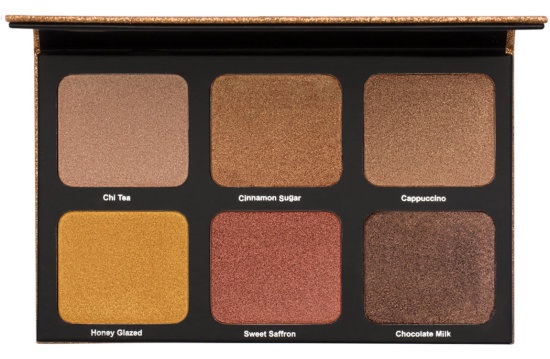 Last but not least, on our list of highlighter palettes for dark skin tones is this 6-piece multi tonal palette by Danessa Myricks. Their Light Work Palette-II (2) has a soft creamy formula, which is easy to blend. Filled with micro light refracting particles, this palette offers both, definition and illumination.
The palette consists of the following shades:
Chai Tea: A luminous neutral Pink
Cinnamon Sugar: A rich, luminous Copper
Cappuccino: Rose Gold with a luminous finish
Honey Glazed: Shimmery Yellow Gold
Sweet Saffron: An illuminating Terracotta Bronze
Chocolate Milk: A shimmering Cocoa Bronze
Conclusion
If you are also looking out for a suitable highlighter palettes for dark skin tones, check out the ones above and try them out. We hope one of them might become your signature highlighter palette. You Glow Girl! Blog-Ox.