They say, glowing skin is always in, and what's too bad in a little shimmer anyway? Highlighters have been the talk of the town since the early twenty-teens. They came and they conquered the beauty world by storm. By 2016 the bold, hit em' in the face highlighters were all over the shelves but by 2017 and onwards a more subtle approach has been seen. In any case, bold or natural, one thing's for sure. Highlighters undoubtedly add an edge to an otherwise ordinary look.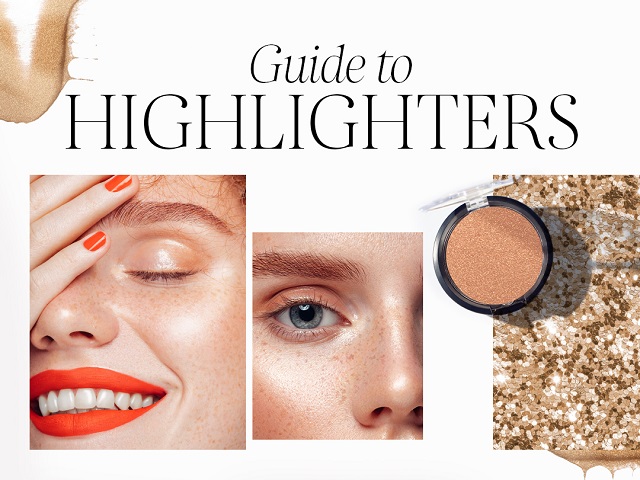 Today's blog is all about basics. A Beginner's guide to highlighters – what are they, how, when and where to use them. So, let's begin by checking out what this fuss is all about?
Highlighters – What's the Big Deal?
In literal terms, highlighters are used to highlight or define your facial features. They are an excellent tool to enhance your best features giving them a healthy-looking glow. In other words, highlighters are the frosting to your everyday makeup look. Not only does it level up your glam game but when it's applied tactically it can completely dramatize your look.
Types of Highlighters
Let's start off our beginner's guide to highlighters with the very basic; types of highlighters. These days, the beauty market is packed with highlighter products of all kinds, So there's a formula, color and texture for every preference and skin type. So fret not to highlight even if you're bone-dry or having oily skin!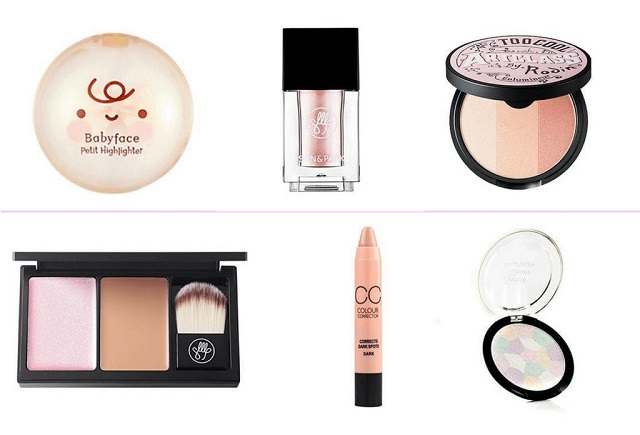 Highlighters, like blushes, come in three forms:
Liquid
Cream
Powder
Liquid Highlighter
Liquid Highlighters are a great type to invest in. They are super concentrated; gives your skin a dewy look and a tiny bit goes a long way.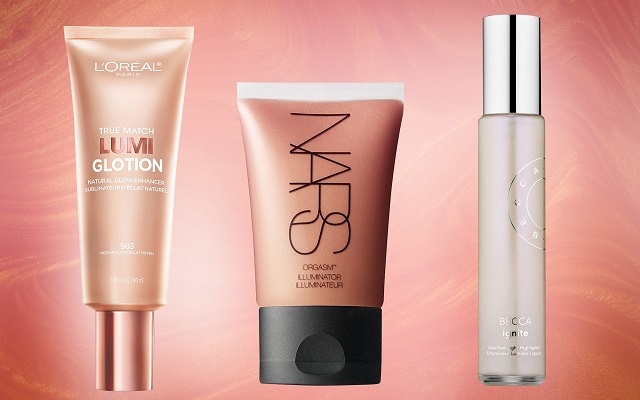 If you have dry skin, liquid highlighters are a match made in heaven for you. These highlighters generally contain an oil base which absorbs into the skin leaving it with the shimmer you want. Liquid highlighters not only give you a dreamy, dewy look but also keeps your skin hydrated.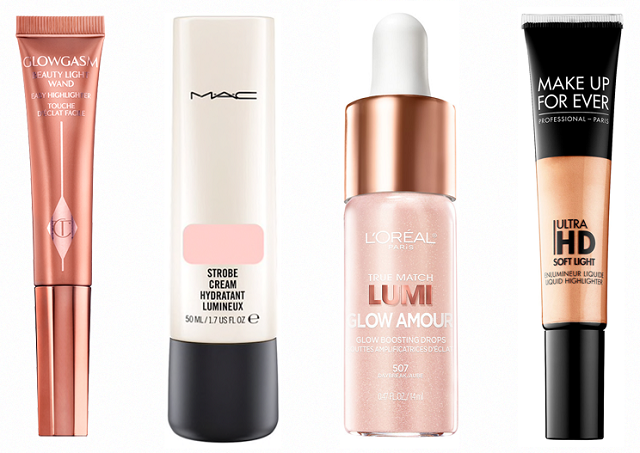 However, if you have oily skin or you tend to live in the warmer areas of the globe, you need to be cautious while dealing with a liquid highlighter. Oily skin types or sweating due to extreme temperatures can turn your dreamy look to a horrid glossy mess really quick.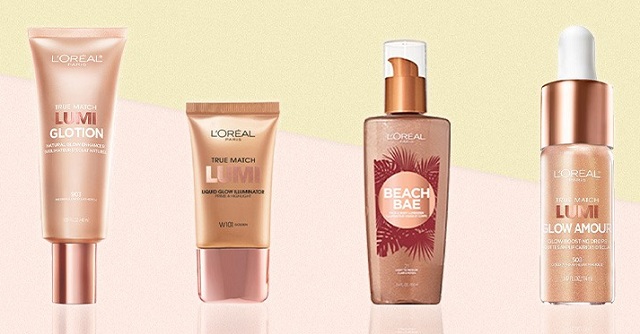 In case of a combination skin type, where the t-zone is oily you need to see what combination works for you. If you have invested in a liquid highlighter or simply if you like the intense glow you get from this type there's no need to panic. You just need to use a good primer before and a good setting powder/ spray after using your liquid highlighter.
Blending sponges work very well for this type of highlighter.

One quick tip is to use your highlighter in the correct order. In case of liquid highlighters, apply them after your foundation and concealers but before your setting powder. This will help keep your highlighter stay in place by absorbing any extra oil and giving you the sheen, you desire.
Cream Highlighter
Cream highlighters come with a moisturizing agent that gives a creamy finish. These types of highlighters work well with dry and combination skin types. However, ladies with oily skin should check for different setting products to see what works best for them.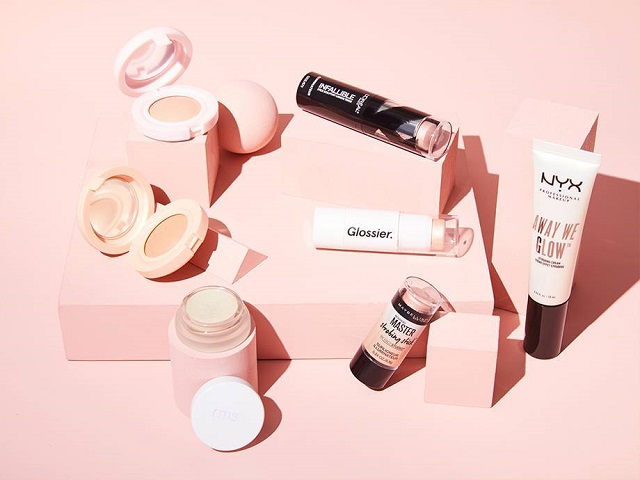 Cream highlighters come in tubes or in form of sticks. In any case, the application is super easy and handy. For me, cream highlighters are best blended with fingers. This not only gives you control but also the warmth of the skin allows the highlighter to melt into your skin giving you a smooth blended finish.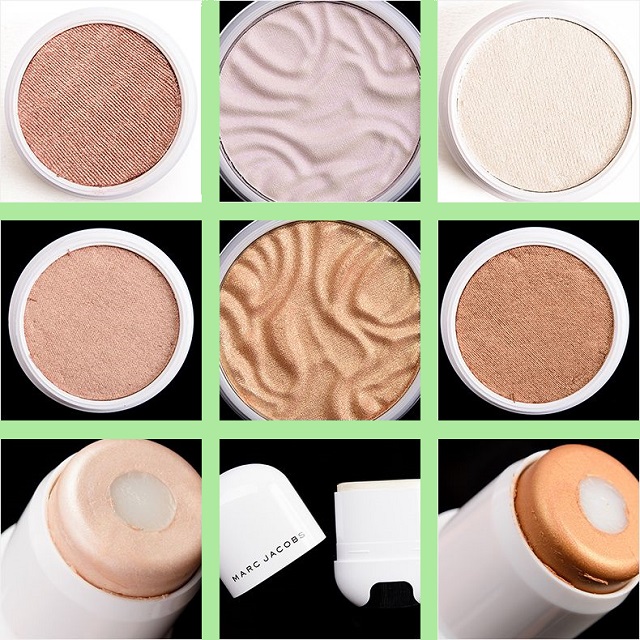 Cream highlighters can be applied over and under the powder, to give a gleaming finish.
Powder Highlighters
Ladies with oily skin! We got you a perfect match! Powder highlighters are the best type of highlighters if you have oily or combination skin type. They are easy to apply, last longer and have just the right amount of pigment to give you a seamless glow.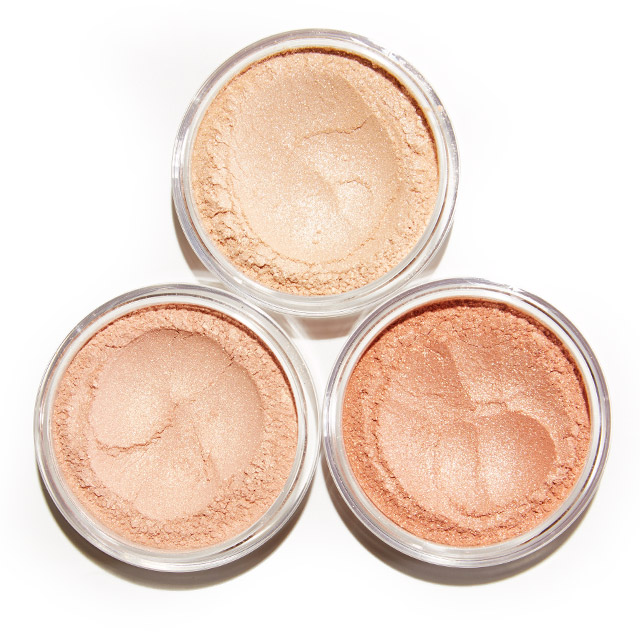 Powder highlighters may come in two forms i.e., pressed or loose powders. In any case correct application will not only blot out the excess oil on your skin but will also give you the radiant sparkle you need.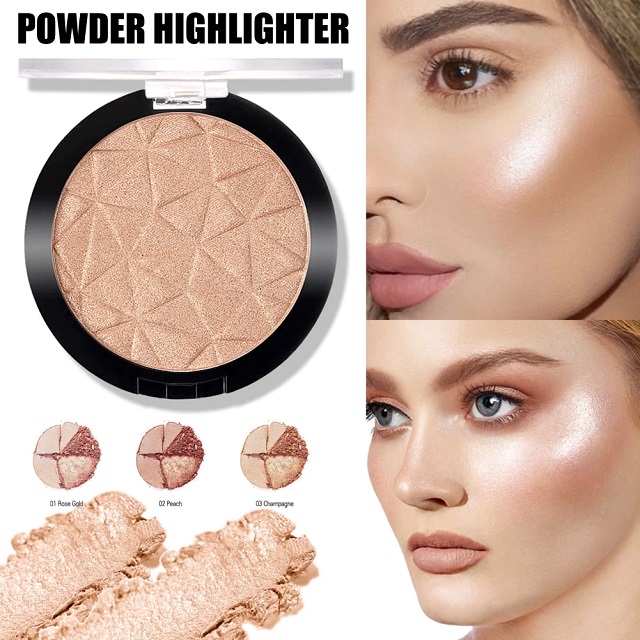 This kind of highlighters are best applied and blended with a highlighter brush. So don't hesitate to invest in the right tools.

For people with dry skin, if you love your powders don't hold back. Just make sure to properly moisturize your skin prior to the application of powder highlighters. This will help to even out any dry patches or fine lines on your face, allowing the highlighter to set well and give you a healthy beam.
Colored Highlighters ­- How to Choose Your Perfect Match?
Next in our beginner's guide to highlighters, let's talk about choosing the perfect highlighter color
Highlighters comes in all different colors and shades. And with the newfound love for them in the beauty industry there is a highlighter in almost every color in the book. Generally, nudes with a hint of gold and highlighters with a pinkish hue are seen as universal colors which work for almost every skin tone and color.
However, if you want to be precise with what highlighter color to choose the rule of the thumb is to look for;
Your complexion (Fair, dark, medium, olive etc.)
Your undertone (cool, warm, neutral)
For people with fair skin highlighters in a tone of pink will do just the right magic for you. In case you have a medium skin color with warm undertones any highlighter that is champagne or golden will work wonders for you. Deeper skin tones can go for copper and bronze highlighters to accentuate their beautiful features.
Beginner's Guide to Highlighters – How and Where to Apply Them?
As a newbie, you might be confused where and how to use the highlighters. If that's the case our beginner's guide to highlighters is the ultimate solution.
Highlighters can be applied with your fingers, beauty blender or a highlighter brush. All that matters is just how you feel more in control of blending them to have a flawless unified finish.
However, as mentioned earlier, for me liquid highlighters are best blended with a beauty blender, powder highlighters just glide smoothly with a brush and for cream highlighters, your fingers are all that you need.
You can apply your highlighter to all the features that attract light. An easy way is to face a light source and see the parts of your face that reflect the light.
As a beginner's guide to highlighters, these are the spots you need to highlight.
Top of your cheek bones- To give an instant lift
Inner corners of your eyes- For bigger, brighter eyes
On the bridge of your nose- For a sleek look
Cupid's bow- To add an oomph and plumper lips
The middle of your eye lid- To attract attention to your dramatic eyes
Your brow bone- For an instant brow lift.
Center of your forehead- For an over-all brighter look. Highlighting draws attention to
And if you are out on a date or are showing some skin feel free to highlight your collar bones so that no one can set off their eyes from you.

Avoid highlighting uneven textures of skin or areas with larger pores to avoid enhancing those areas. Until and unless you properly conceal them out.
So, what are you waiting for? EAT – SLEEP – HIGHLIGHT – REPEAT! Check out our blog for the ultimate beginner's guide to highlighters and get going. If you haven't tried highlighters yet give them a chance. And trust me you won't regret. You Glow Girl! Blog-Ox.