"Dipped in chocolate, bronzed in elegance, enameled with grace, toasted with beauty. My lord, she's a black woman." – Yosef Ben-Jochannan
Highlighters are the talk of the town these days. Every lady wants to add the regal glow to her face that the highlighters have to offer. Being a part of the beauty brigade, we know exactly how a perfect highlighter can turn the tables for you. Highlighters, if chosen and applied correctly, has the power to add a glistening effect to your otherwise mundane look.
Previously finding your true match was not very easy, specially considering highlighters for dark skin. But thankfully, the beauty industry has recently taken a more inclusive approach towards creating highlighters flattering a wide variety of skin tones and types. So, whether you are pale or dark, dry skinned or oily, there's a highlighter for everyone.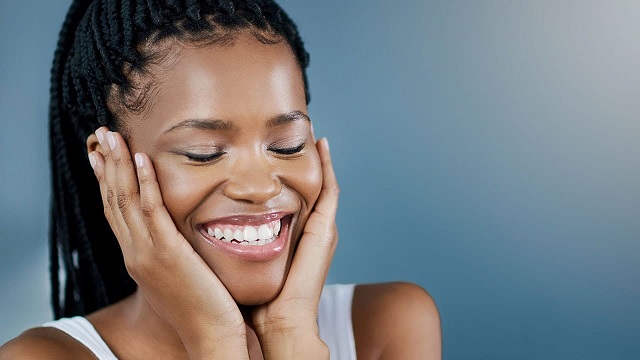 However, when it comes to ladies with dark skin tones, finding the highlighters of your dreams can be a little tricky. Most of the colors that look stunning in the palette or breath taking on other skin tones might go awry on you. The struggle is real, we know!
And to ease the burden on you a little, we have come up with a selection of some of the best highlighters for dark skin tones. The highlighters are selected keeping in mind the reviews of makeup gurus, personal favs of the dark-skinned celebrities and tested a variety of them ourselves to bring you the best we have.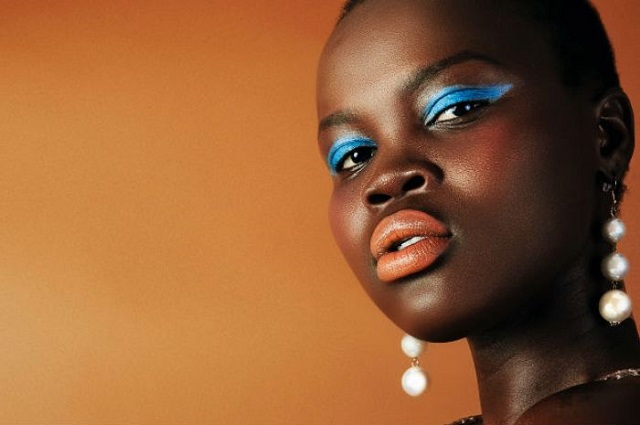 Finding Your Perfect Match!
Although it seems a lot, but finding the perfect highlighter for your skin is just a two – step game; undertones and contrasts. This means you have to look out for the highlighter shade, first and then check how well it plays against your skin tone.
For dark skin with warm undertones choose the shades that are on the warmer side. Gold, copper, bronze, orange and peach are all the shades that you can opt for a mesmerizing glow. Chocolate toned pearls are also a yes.
For dark skin with cooler undertones colors such as icy white, silver, violet, cool-toned bronze and pink works perfectly. Champagne toned pearls are also a good option for such ladies.

In general, gold and orange toned highlighters flatters the deeper complexions.
Avoid using icy shades if you have a warm undertone.
For a more dramatic look, go for highlighters that are lighter in tone in comparison to your skin tone.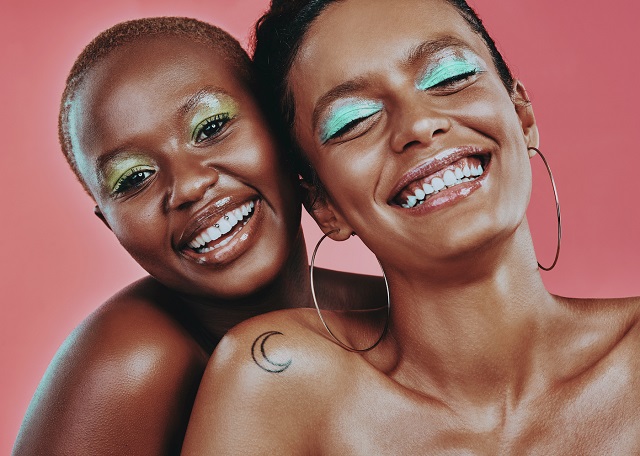 Highlighters for Dark Skin – Liquid, Cream or Powder?
Choosing the right texture for your skin depends on your skin type. If you have oily skin, powder highlighters are the perfect choice for you. In case of dry skin liquid or cream highlighters will give you the intensity you desire while hydrating your skin. For a combination skin you can go for a combination of these or any of them you prefer.
Whatever you choose, there are tons of options for any complexion. Below we have listed some of our favorite highlighters for dark skin tone according to their skin types.
Highlighters for Dark & Dry Skin
BORN TO GLOW LIQUID ILLUMINATOR by NYX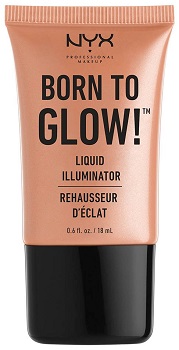 The liquid highlighter by NYX is a perfect highlighter for dark skin ladies with warmer under tones. The highlighting liquid comes in 4 amazing colors. Sun Beam, Pure Gold, Sun Goddess and Gleam. The formula is hydrating and works really well for dry skin types.
Blog-ox Recommendation
For deeper skin tones, blog-ox recommends using the shades Pure Gold if you are a medium brown, or needs a subtle sheen, and Sun Goddess if you have dark skin or you prefer an intense glow.
GLASS GLOW FACE ILLUMINATOR by KEVIN AUCOIN

Highlighters for dark skin? This hydrating, liquid illuminator by Kevin Aucoin is a big YES! The creamy texture allows it to blend completely giving a uniform glow thus making it one of the best-selling highlighters for dry skinned ladies, all around the globe.
The product comes in a variety of 6 stunning shades i.e., Spectrum Bronze, Prism Rose, Crystal Clear, Cosmic Flame, Pixie Dream and Solar Quartz, that flatters a variety of skin tones.
Blog-Ox Recommendation
Blog-Ox recommends the shades Spectrum Bronze and Solar Quartz, if you have a deeper skin tone and Prism Rose and Cosmic Flame, if you tend to have medium brown, wheatish complexion.
DEW DROPS COCONUT GEL HIGHLIGHTER by MARC JACOBS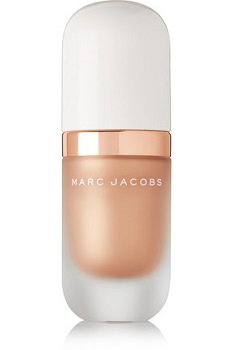 Packed with the hydrating and rejuvenating powers of coconut, this beautiful product by Marc Jacobs is definitely worth trying. The product is a luminous gel cream which nourishes your skin as well as giving it a glow from within. The golden- peach hue perfectly accentuates deeper skin tones and the coconut extracts and provitamin B5 are a treat for dry skin types.
The highlighter comes in 3 ravishing shades, naming Dew You 50, Fantasy and Tantalize 106.
Blog-Ox Recommendation
Blog-Ox recommends the shades Tantalize 106 if you tend to fall in the deeper spectrum (tan/ebony) and Dew You 50 if you have a medium brown/ olive complexion.
RIPE FLESH GLISTEN DROPS by FLESH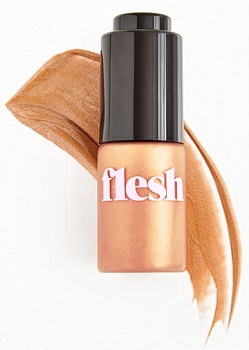 Another highlighter for dark skin tones with dry skin types. This liquid highlighter by Flesh beauty is a multipurpose highlighter which can be used alone or mixed with the foundation to achieve an over all radiance. The highlighting liquid is infused with mica pearls and contains gelled water to give a hydrated, refreshed look to your dry skin.
The illuminator comes in 4 different shades, i.e., Aura, Whisper, Candleglow and Vibrate.
Blog-Ox Recommendation
Blog-Ox recommends the shades Candleglow and Vibrate to amp up your beautiful tan.
IGNITE LIQUIFIED LIGHT HIGHLIGHTERS by BECCA COSMETICS

Becca Cosmetics have launched a wide variety of highlighters for dark skin tones, in a number of amazing shades to flatter varying tones of deeper complexion. The company offers highlighters for different skin types and there's a lot of options to choose from.
These beautiful ignite highlighters are insanely pigmented, long lasting and blends smoothly into the skin giving an ethereal glow. These highlighters come in a variety of 5 breathtaking colors i.e., Acceptance, Passion, Creativity, Gratitude and Strength.
Blog-Ox Recommendation
Blog-Ox recommends the shades Creativity if you have a wheatish complexion, Gratitude for a medium brown/ olive complexion and Strength in case you have a tan/ebony complexion.

Avoid highlighters that are too light. Pick a highlighter that matches your foundation. A good highlighter is always gentler.
Highlighters for Dark & Oily Skin
SHIMMERING SKIN PERFECTOR by BECCA COSMETICS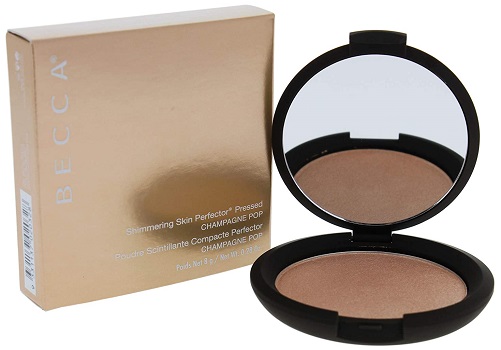 Starting our list of highlighters for dark skins with oily skin type with the Shimmering skin Perfector Highlighter by BECCA Cosmetics. The product comes in the form of pressed powder and is available in a variety of 10 shades.
The formula is buttery soft, buildable and blends well. It is formulated without parabens, artificial fragrance and mineral oil, making it suitable for oily and sensitive skin types.
Blog-Ox Recommendation
Blog-Ox recommends the shades Chocolate geode and Topaz, if you have deeper (ebony/tan) skin tone, Rose Gold and Prosecco pop, if you have medium brown complexion and Opal and Champagne pop, if you have wheatish skin tone.
MEGAGLO HIGHLIGHTING POWDER by WET n WILD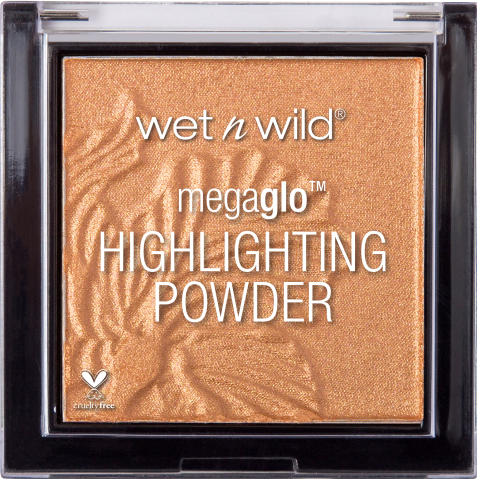 Another highlighter for dark skin ladies with oily skin type is this powder highlighter by wet n wild. The highlighter is infused with the benefits of vitamin E and has a matte finish which makes it a good choice for oily skins. The formula is weight less, buildable and long lasting.
Blog-Ox Recommendation
Blog-Ox recommends the shade Awesome Blossom to glam up your glow game.
SKIN ILLUMINATING POWDER DUO by TOM FORD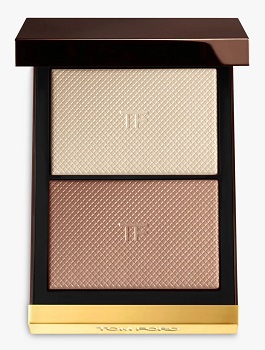 The highlighting and illuminating powder duo, by TOM FORD, is an amazing option for ladies with dark and oily skin. The product is buildable, has a smooth finish and gives your skin a subtle glow. The two shades combine the most flattering nature of lights on the skin. A lighter shade gives the radiance of day light and a darker shade for capturing the ethereal glow of candle light.
Blog-Ox Recommendation
Blog-Ox recommends this product in the shade Flicker, for ladies with dark skin tones.
PRO LIGHT FUSION HIGHLIGHTER by MAKE UP FOR EVER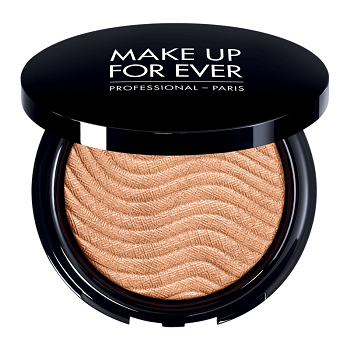 Next on our list of highlighters for dark skin with oily skin type is the Pro Light Fusion Highlighter by Make Up For Ever. The highlighter comes in the form of pressed powder and has a beautiful golden shade which flatters deep skin tones, completely.
The highlighter sculpts and instantly lifts up your features giving you a subtle and long-lasting radiance, throughout the day. The powder-gel technology gives it a smooth wet finish and blends completely into the skin.
Blog-Ox Recommendation
The product is available in shade 2-Gold, and looks mesmerizing on varying tones of the deeper complexion.
NUBIAN LOOSE HIGHLIGHTER by JUVIA'S PLACE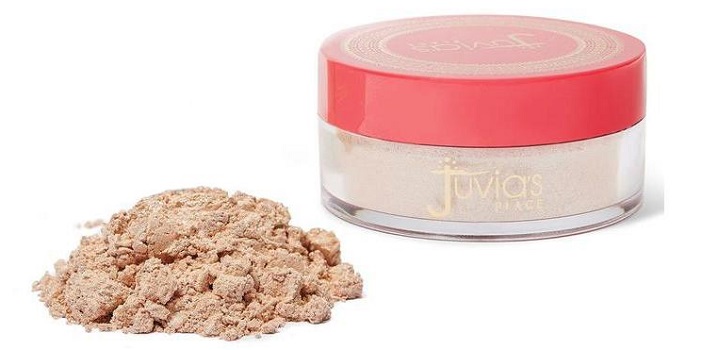 Talking about highlighters for dark skin, this insanely pigment loose highlighting powder by Juvia's Place is undoubtedly a show stopper.
Formulated with finely milled pearls, they are easy to blend and have a smooth finish. It is long lasting and a little product goes a long way. The product is paraben free and is suitable for oily skin type.
Blog-Ox Recommendation
Blog-Ox recommends the Nubian loose highlighting powder in the shade Nubia. It is a beautiful pearled bronze color, which works really well for deeper skin tones.

In case of powder highlighters, avoid highlighters that have dense glitter in it. Not only are they too superficial but also, they tend to fall out during the day. Rather, choose powders that are finely milled for a smooth finish and a unanimous glow.
Conclusion
We hope this blog gives you a helping hand in choosing the perfect highlighter for your skin type. Whether dry or oily, every skin deserves the glow it desires. So, check out our listed highlighters and give your dark skin the glow it deserves. You Glow Girl! Blog-Ox.