After a hectic routine, weekend specifically Sunday, is a gift day to calm your nerves and body. A day to relax and to enjoy and a much-needed break from the 9 to 5 monotony of life. Sundays are Fun-days and this article helps you how Sunday hero lip colors make you look amazing and flattering.
No matter if you are a working mom, a house wife, a career oriented single or a college girl, Sundays are always looked forward to. Ladies all across the globe have different routines of this day, which vary according to their moods, lifestyles, activities, and priorities. But if there is one thing they have in common; it is their opinion about Sunday mornings.
They all consider a little extra sleep as the biggest blessing in their restless lives. Sunday mornings generally start without having to worry about workloads. There is no work pressure, no anxiety and none of the lengthy to-do-lists. This calm day always brings peaceful mornings.
You can just lay in your bed, enjoy, observe and feel the beauty of nature and the beautiful essence of it, which helps to purify one's soul and boost positivity. And you always have a chance to sleep a little extra and then enjoy them Sunday evenings by going for a walk in any near-by park.
The nights are also full of fun, enjoyment, music, parties, hangouts, surprise, and planned gatherings with family and friends, which stream a person and make them ready for the upcoming week.

Sunday Makeovers
No doubt, on Sundays, some ladies out there might want to give their skin a break and want to stay in their PJs all day long. But there are always a handful like us in the lot who could have fun with their cosmetic kits, because why not?
You may be a newbie in the world of cosmetics who know that practice makes a man perfect or you could just be a beauty freak who love, love loves all his makeup items and want to spend the day with them. Whether you are jolly and excited or you are a little off the track and want to uplift your mood, we have a little something for all of you out there!

Sunday Hero Lip Colors
For a perfect and flawless Sunday makeover every woman realizes and feels the importance of lip colors. No matter you love to put lots of makeup or just want a quick touch-up, everyone knows that lipstick is an essential part of your beauty routine.
Without an appropriate lip tint, your look is incomplete. It is not only used to complete one's look for a specific occasion but also beautifies and enhance one's features by making their lips more attractive and adding mesmerizing and vibrant colors to them.

It is not hard to admit that the most important and crucial step is to make decisions regarding lip colors. There is a saying, "With a perfect selection of lip color women is able to conquer the entire world".

So, let's look out for different Sunday routines and our Sunday Hero Lip Colors to pair with each one of them.
For A Perfect Sunday Brunch
Sundays hardly ever start by the clock. Who among us does not love a little extra sleep over a 7 AM breakfast? That is why Sunday Brunches are common in every part of the world.
But to be honest if you are not active enough for a 7 AM breakfast why would you want to do a complete makeover for a brunch? And that is exactly what we are here for! To let you know a subtle lip colour for times like these where you are sluggish but still want to look fresh.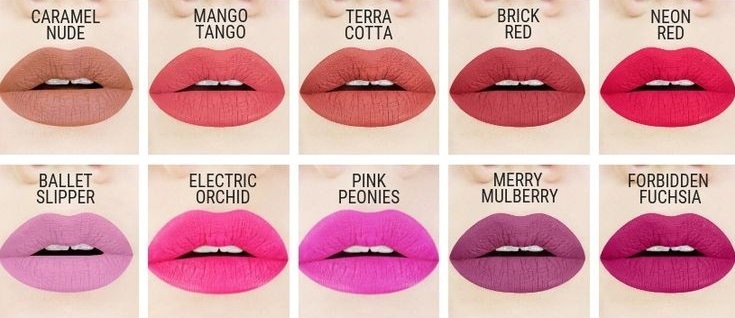 A pink color lipstick is usually used for such day time events when the sun is out. The pink color lipstick gives you a perfectly pure and neat look with a little bit of pink blush on, and it helps you to glimmer like sunshine in outdoor events and reflect purity and positivity. Shades of pink can be used as a perfect choice for Sunday brunch.

So, the next time when you jump out of bed, getting late for a Sunday brunch, fret not lovelies! Just pick up your favorite Pink lipstick from your vanity and you are good to go.

For Hi-Tea with Office Mates
If you are a working woman you know it well that workplace friends are more of a family. They have seen you at your worse and have helped you survive the tantrums and anxiety on a stressful day.

Sundays might have nothing to do with office work but who said you can't have fun with your workmates over a lavish hi-tea. For all such days where you want to rock it with your office colleagues, dark lipsticks are a way to let your inner bad ass show up, while keeping the poise on point.

Deep maroon and Burgundy lipstick with straight and sleek hairs shows your sophisticated mood. It is the best choice for an unofficial hi-tea you're your workmates.

For a Sunday Evening Walk
Evening strolls are the best way when it comes to relaxing your mind. And of course, you deserve all the pampering and relaxation after a tiring week.
Close contact with nature helps out to bring the positivity in you and so does makeup. So, before you head out, stand in front of the mirror and throw some lipstick on. Smile a little and rock on!

For such refreshing strolls, something close to your natural look would do justice to the purpose. And therefore, we suggest nude shades with a hint of lip gloss to keep your lips hydrated while making you look all natural and glowy.

Candlelight Dinner with Partner
If you want to have some exclusive family time on Sunday, what is better than a calm and intimate candle light dinner with your partner.
For such nights, ruby lips are a hit. No matter what you wear, you can pair them with a perfect red lipstick and add a little spice and drama to your special night out.

Exotic red lip color is not only suitable for the dinners and night parties, it provides the person a perfect classy and glamorous look for a dreamy dinner date.

For a Sunday Picnic
Talking about Sundays how can we forget picnics and outdoor fun activities with family and friends. Picnics are always fun and to add on to this experience you can use a variety of different lip colors. Apparently any color from your cosmetic kit, that makes happy can be Our Sunday Hero Lip Colors for such out door gatherings. However, bright shades of pink and orange go really well with the colors of nature.

A bright pink or orange lip color will not only make u look fresh but cheerful and ready to have all the fun with your loved ones.
These were the few ways how we think you can make your Sundays glamorous and colorful, without too much effort. Just the right shade of lipstick for the right mood and make your Sundays a little more refreshing, thus, giving you a fresh start to the week ahead.
So, the next Sunday that comes, whether you are from the beauty brigade or are a couch potato, color those lips and keep slaying! Blog-Ox.