Lip oils are a hybrid between Lip Gloss, Lip Stain, Lip Balm and Treatment. Tinted lip oils have the moisturizing benefits of an oil with a fun pop of color and they immediately envelop the lips to give a pampered pout. They fit the trending no makeup look perfectly as they provide just the right amount of lip color to complete your no-makeup makeup look.
That is why we have brought to you the best tinted lip oils.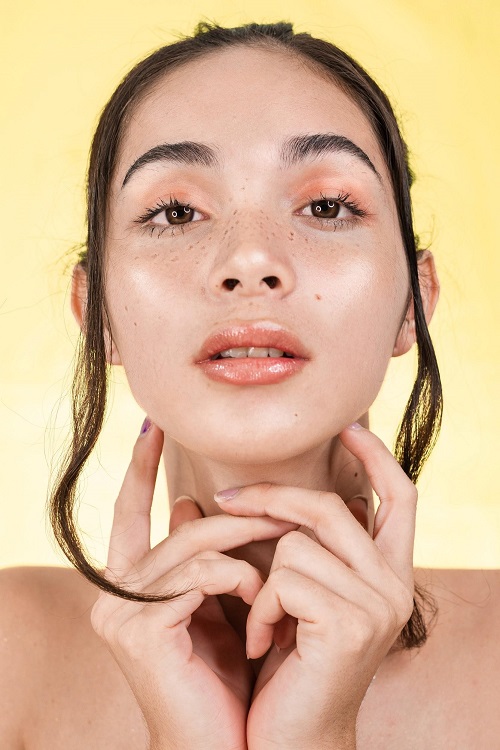 Treat your lips with the following best tinted lip oils and give them a day off from the mundane lip products.
ChapStick Total Hydration Vitamin Enriched Tinted Lip Oil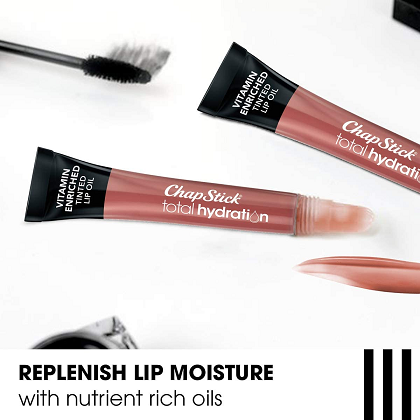 This tinted lip oil serves as a comforting and nourishing lip balm but has a sheen like a gloss. But it is kinda' superior to a gloss in terms of its non-sticky and hydrating formula that does not dry out lips. ChapStick Total Hydration vitamin-enriched lip oil has an ultra-lightweight texture that glides on sleekly. You can apply it whenever you need a subtle sheen with a sheer colour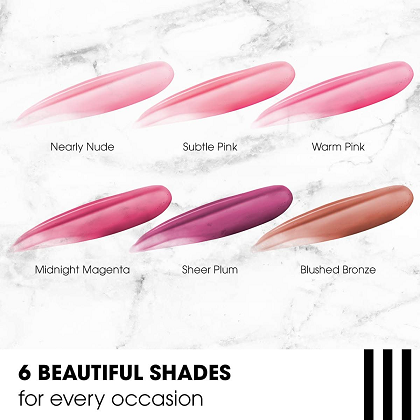 It is comprised of:
Oil Blends: Castor Seed Oil, Black Currant Seed Oil, Olive Oil, Sunflower Seed Oil, Soybean Oil with their myriad benefits.
vitamin E, vitamin C, and omegas 3/6/9.
Crushed Oil-Infused Lip Gloss by Bobbi Brown Cosmetics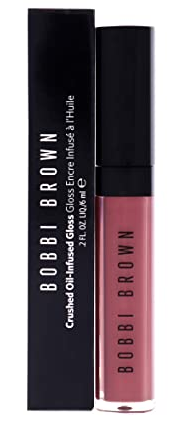 This Bobbi Brown Oil-Infused Lip Gloss formula contains a higher level of pigment and is extremely moisturizing. It has a non-sticky texture and is infused with a nutrient-rich blend of oils that offers a soft, comfy feel. Its wide variety of shades makes it one of the best tinted lip oils.
Its formula comprises of a healthy oil blend of :
Olive Fruit Oil
Apricot Kernel Oil
Kukui Seed Oil
Avocado Oil
Jojoba Seed Oil
Coffee Seed Oil
Castor Seed Oil
Oil-Infused Lip Tint by NARS Cosmetics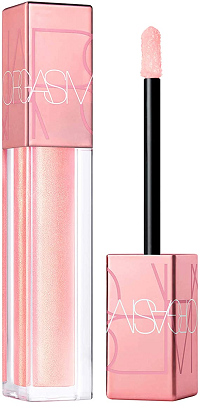 Oil-Infused Lip Tint by NARS Cosmetics feels absolutely divine on the lips and is the perfect option for you if you like shimmer. The luxurious formula glides on the lips effortlessly. Its texture is non-sticky and non-greasy.
Its amazing ingredients include:
Raspberry seed oil: provides a nurturing and smoothing impression to the lips and opposes ecological aggressors.
Pomegranate Extract: provides antioxidant and hydration properties.
Vitamin A and E
Its unique shimmery finish and ultra-hydrating formula makes it one of the best tinted lip oils.
Color & Care Lip Oil In Stick by ALMAY

Color & Care Lip Oil In Stick by ALMAY is a lightweight formula that delivers a sheer colour as well as moisturizes and nourishes the lips. Its texture is comfortable, non-sticky and glowy. It is dermatologically tested and proven hypoallergenic. It comes in a solid stick twist-up crayon that glides on the lips with no mess.
It is infused with a nourishing oil complex consisting of:
Buckthorn berry
Abyssinian oil
Sunflower oils
Evening primrose oils.
Tinted Sculpted Lip Oil by Ogee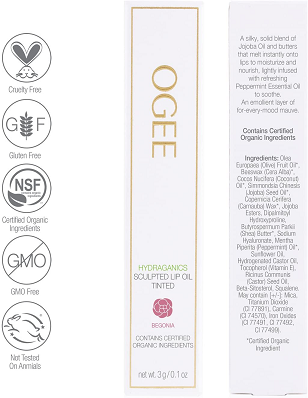 Ogee Sculpted Lip Oil comes in a crayon form. The peppermint oil in it gives it a cooling sensation and refreshing scent. You can choose from its different hues of pinks, reds, and nudes. It also has a clear variant.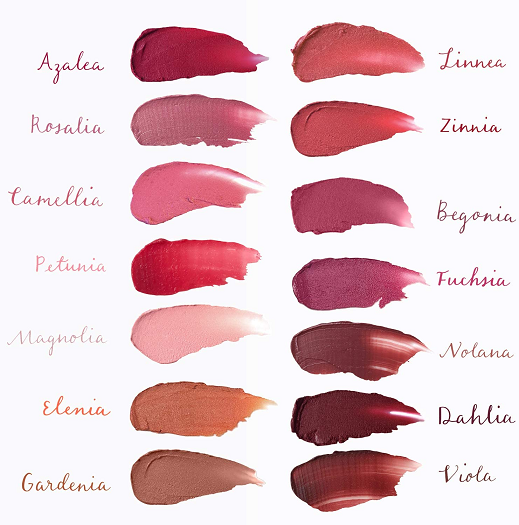 This Tinted Sculpted Lip Oil is a thick amalgam of:
Oil blends: Cold-pressed Jojoba Oil, Olive Fruit Oil, Coconut Oil Sunflower Oil, Hydrogenated Castor Oil work collectively to provide you with superior moisture.
Squalene: An excellent emollient and a natural antioxidant
Beeswax and Butters: Moisturize.
Hyaluronic Acid: hydrates
All these melts immediately onto the lips to provide them with moisturization and nourishment. Its formula is buildable. Its mess free crayon form makes it one of the best tinted lip oils.
Maracuja Glossy Lip Oil by Tarte Cosmetics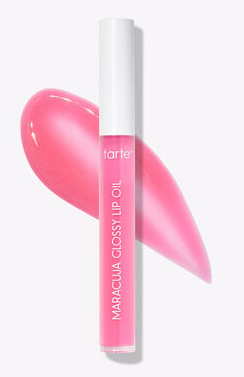 Maracuja Glossy Lip Oil gives you a hydrating high-shine lip look with its superfruit based formula. It makes your lips appear fuller, plumper and super juicy. Its shade is designed to flatter all skin tones. Its formula and universal shade make it one of the best tinted lip oils.
It is packed with the benefits of more than 6 nourishing oils and botanicals. The highlighted ones are:
Maracuja oil: rich in vitamin C and essential fatty acids vital to skin health
Safflower seed oil: conditions and hydrates the lips
Macadamia seed oil: softens and soothes the lips
Acai fruit extract: makes lips supple
Cupuacu seed butter: acts as an antioxidant and hydrates
Olive fruit oil: reduces the appearance of inflammation, conditions and tones
Konjac Root Powder: improve the health of lips.
#THISISEVERYTHING Lip Oil Sheer by NYX PROFESSIONAL MAKEUP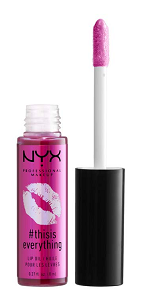 Immerse your lips in delicious glossy #THISISEVERYTHING Lip Oil by NYX. It is a sheer lip oil that feels super-soft, creamy and glossy.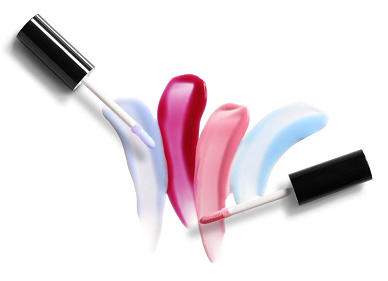 Following hydrate your lips with a silky touch:
Oil blends: Grape Seed Oil, Jojoba Seed Oil, Sweet Almond Oil, Avocado Oil, Rosehip Oil
Vanilla-cherry blossom scent
Lip Comfort Oil by Clarins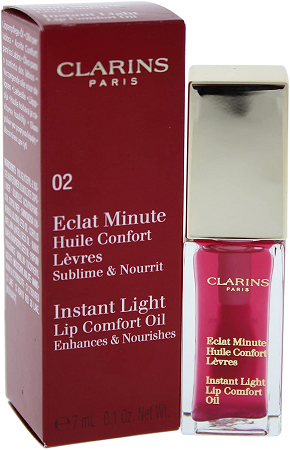 Embrace your lips with Lip Comfort Oil by Clarins for plenty of moisture. It will give a slightly sweet taste with a non-sticky light texture. Some of its options offer sheer shades, some provide customised hue by reacting with the pH of your lips while a few provide you with a delicious taste.
Its nourishing ingredients include:
Hazelnut: softens the lips.
Jojoba: nourish and enhance lips.
Raspberry: acts as an antioxidant and protects the lips.
Kiehl's Love Oil for Lips

Love Oil for Lips Glow-Infusing Lip Treatment feels light on lips and hydrates and nourishes them. Leaves lips with the appearance of a luscious shine and smooth, natural-looking glow
It is available in four sheer colours as well as a clear option. Its highlighted ingredients include:
Coconut Oil: rich in fatty acids.
Moringa Oil: rich in fatty acids and nutrients.
Acerola Cherry: rich in Vitamin C.
Sweet Peach Oil Lip Gloss by Too Faced

Sweet Peach Oil Lip Gloss by Too Faced is a cross between lip oil and gloss. It is the perfect choice for those who are reluctant to transition from lip gloss to oil. It looks flattering on every complexion. Its scent and taste are like peaches that are picked freshly. Its finish is high-shine and non-tacky and leaves lips with a glistening look.
Its formula includes:
Coconut oil: gives it a silky smooth.
vitamin E and other nourishing ingredients
Burt's Bees 100 % Natural Moisturizing Tinted Lip Oil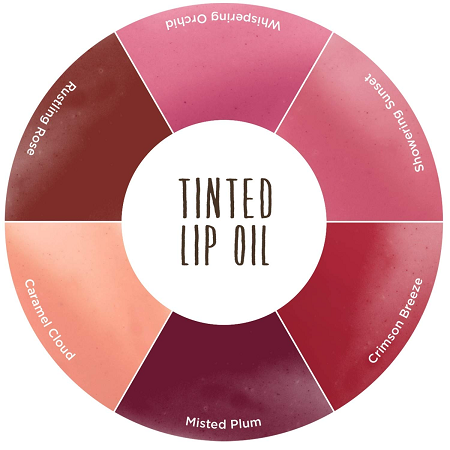 Burt's Bees 100 % Natural Moisturizing Tinted Lip Oil gives a Color hint with a dazzling finish and moisture splash. This lip oil is made with 100% natural ingredients including.
Meadowfoam and Coconut Oils: keep lips soft and supple and strengthen the lips moisture barrier.
Shea Butter: Moisturise lips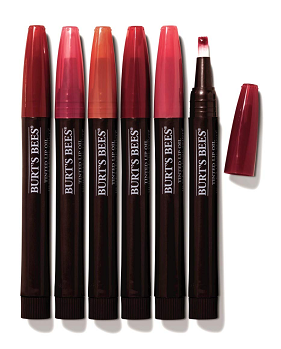 However, it is not buildable and may turn out drying for some. For using it, just twist and click its pen.
The above mentioned best tinted lip oil can be used daily multiple times on bare lips or above another lip product for a shiny effect. They will surely give you smoother, healthier, and moisturized lips. Blog-Ox.