We are all aware that particularly for colder months, exfoliating your lips is needed for smooth and neat lipstick application. Therefore, we have come up with Best Vegan Lip Scrub collection for you all.
Chapped vs. Flaky Lips
Before starting, there is an important distinction that we have to consider between chapped lips and flaky lips. According to Sara Happ (the founder of Sara Happ's lip-care brand), "Chapped lips indicate dehydrated skin, while flaky, cracked, or bleeding lips indicate damaged skin." She further says that "Chapped lips should be scrubbed daily, but flaky lips need to heal,". "Exfoliating isn't going to give [flaky lips] the love and rest they need," she says.
We have to be very careful while applying lip scrubs as excessive lips exfoliation will turn them off balance and make them dry in turn. This might render them vulnerable to cracking.
In short, the final verdict is that,
Stick to soothing lip treatments if the lips are cracked and flaky but,
If they are chapped, feel free to exfoliate them, However, do not overdo it.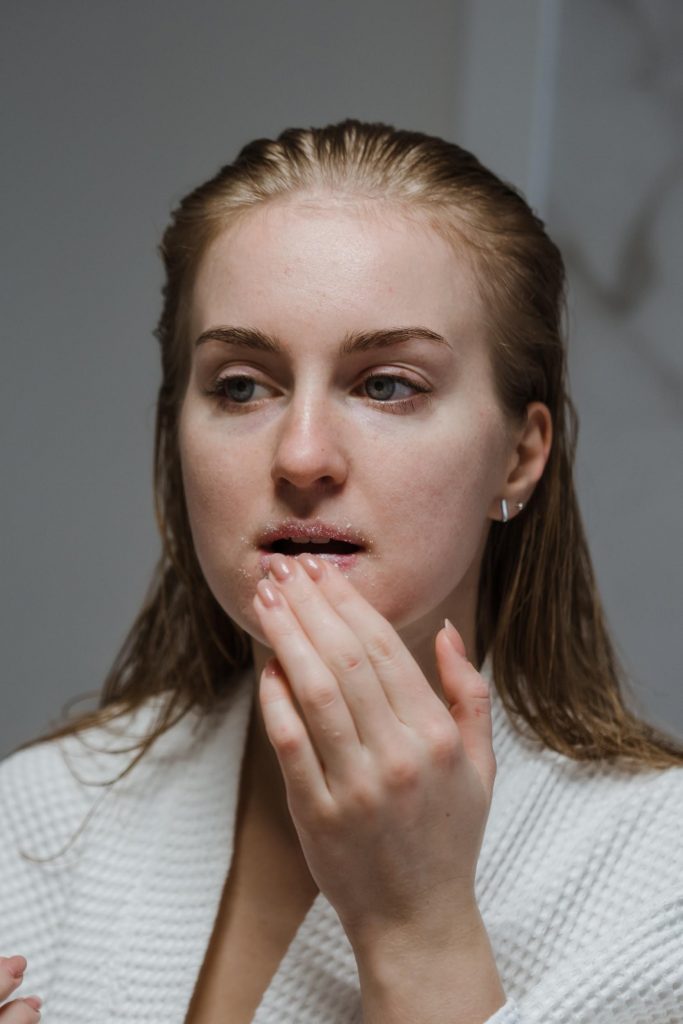 How to use a lip scrub?
Apply and gently rub the lip exfoliator over the lips in small, circular movements. Wipe off the excess with a cotton pad or tissue paper and use a moisturizing lip balm. Use 2-3 times per week to maintain soft and smooth lips.
Let's check out some of the very best vegan lip scrubs ahead.
KUSH Vegan Lip Scrub by Milk Makeup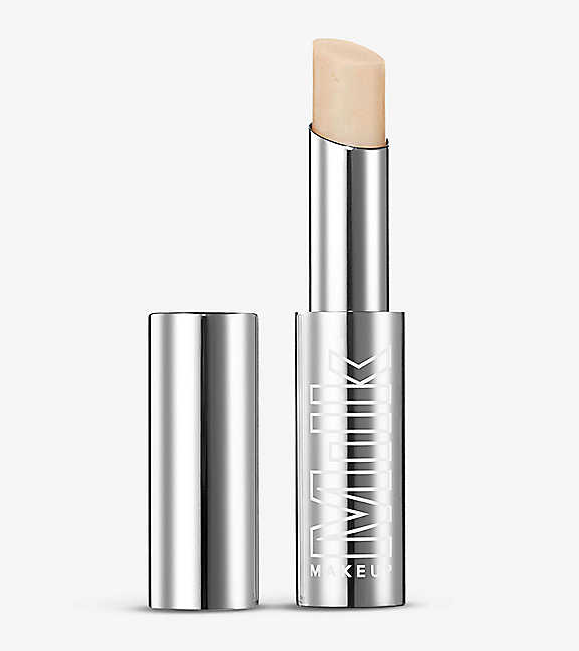 KUSH Vegan Lip Scrub by Milk Makeup is a powerpack of nourishing ingredients.
Its nutritious ingredient includes the following:
Natural sugar crystals and hemp stem exfoliators: removes flakes from lips and makes them smooth.
Butter mixtures: A mixture of Shea, cocoa, and mango butters provide softer lips and seal in moisture.
Cannabis seed oil: hydrates and soothes the lips.
Jojoba and olive oils: offer antioxidant protection.
Sage extract and peppermint oil: leave a delicate natural flavor and aroma.
It is easy to use classy bullet make it one of the Best Vegan Lip Scrubs
Kopari Coconut Lip Scrubby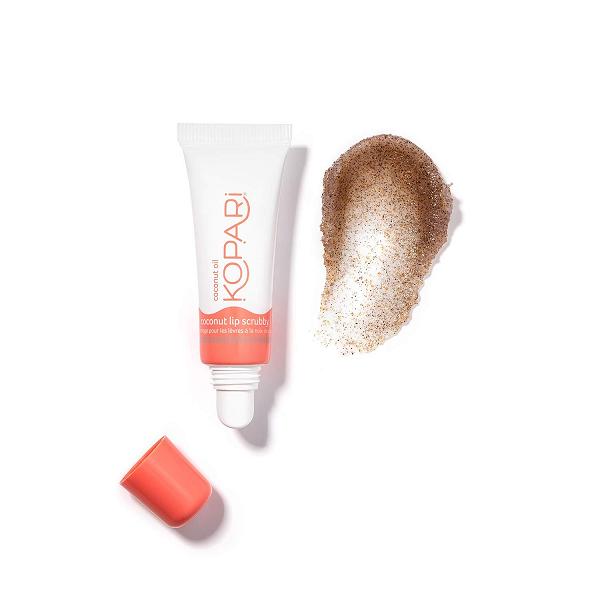 This lip scrub is developed with antioxidants to nourish your lips and make them healthy. It comes in a mess-free tube that leaves you with silky smooth lips.
The following is part of its nutritious ingredients:
Coconut: The fatty acids, vitamin E, antioxidants, and restorative proteins that are present in coconut will make your lips rejuvenated and healthy.
Fine volcanic ash: removes dry flakes from lips and make them supple and smooth.
Lip Exfoliator – Brown Sugar by e.l.f. Cosmetics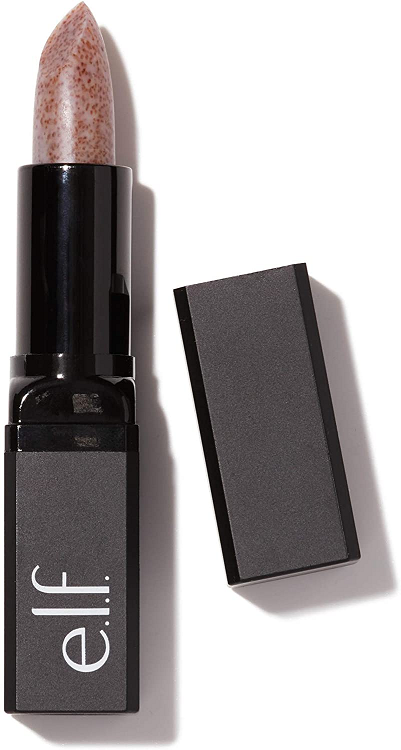 E.l.f. Cosmetics Lip Exfoliator comes in a lipstick-style tube that gently exfoliates the lips to remove rough, scalped skin. Its conditioning formula softens the lips.
The following ingredients are a part of its nourishing formula :
Raw sugar granules: exfoliates flaky lips and improves their appearance.
Shea butter: helps cell regeneration and softening of the skin
Avocado oil: Moisturizes and nourishes
Its elegant bullet is easy to use, making it one of the Best Vegan Lip Scrubs
Peppermint Lip Scrub by The Little Organic Company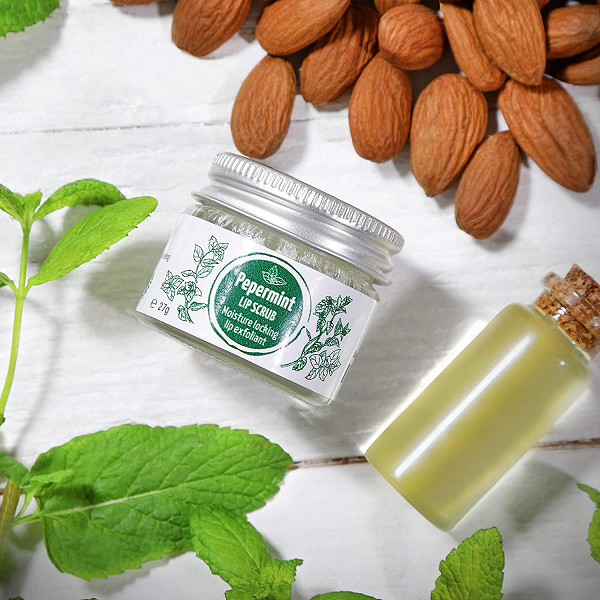 This Lip Exfoliator gives your lips a moisturized and revitalized feel. Gets rid of chapped lips and locks in moisture.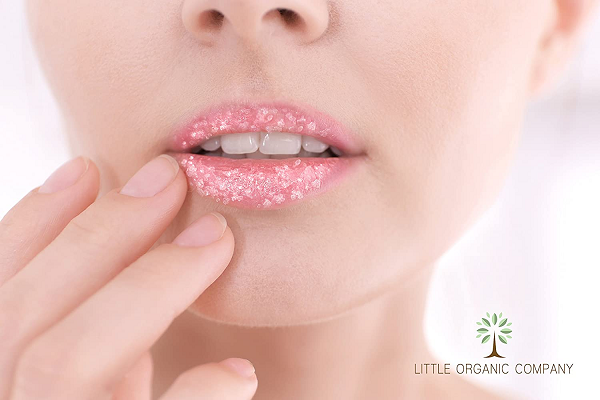 The following ingredients work together to improve the texture of your lips:
Sugar: exfoliates flaky lips.
Nourishing Oil Blend: Sweet Almond Oil, Olive Oil, Sunflower Oil, Jojoba Oil and, Peppermint Essential Oil, all having their myriad benefits.
Also comes in Coconut and key lime pie flavor.
Rose Sugar Lip Scrub by Milani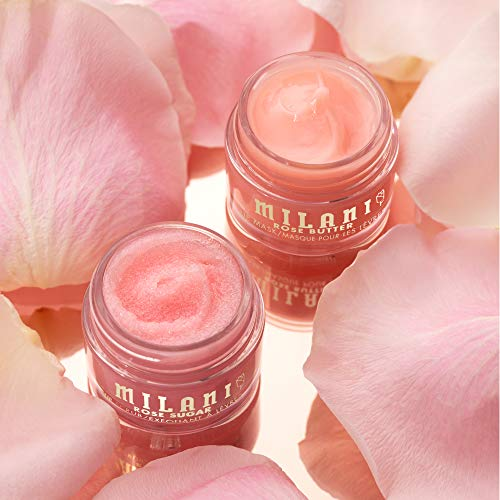 Rose Sugar Lip Scrub by Milani instantly reveals softer and plushier lips.
Its ingredients comprise of the following:
Sweet sugar granules: exfoliates to reveal soft and plushy lips
Oil Blends: Consisting of Rosehip Oil, Argan Oil, Coconut Oil, and Sweet Almond Oil all having various perks.
#THISISEVERYTHING Lip Scrubby by NYX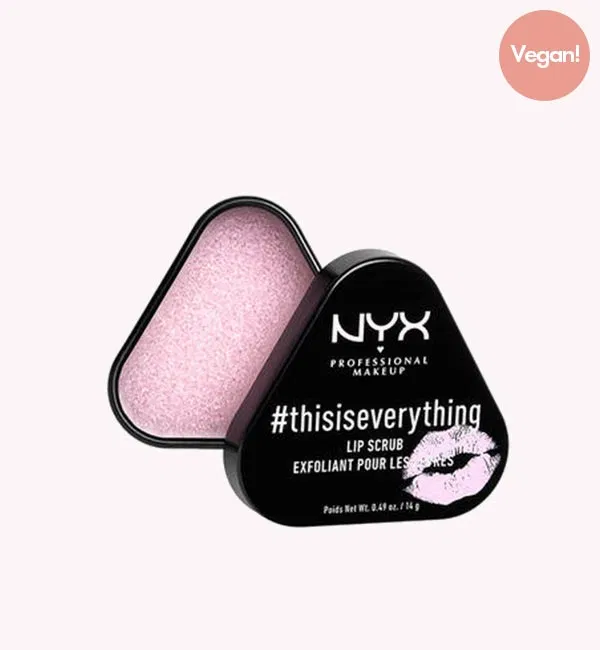 If you do not like the gritty feel of the scrub but still want the Exfoliating action then this is the right product for you. It has the slightest possible texture and can be used daily. It also acts as a conditioning lip balm.
NYX #THISISEVERYTHING Lip Scrub is infused with:
Jojoba oil: reduces the appearance of fine lines on the lips and moisturizes them.
Sunflower seed oil: Helps to regenerate and heal the lip, improves lips texture to give them a fresh and healthy look.
Agave+ Weekly Vegan Lip Scrub by Bite Beauty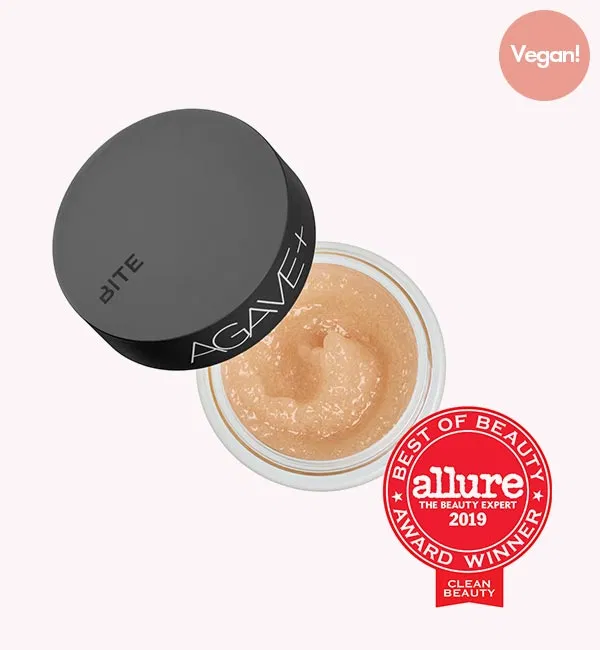 Agave+ vegan lip scrub by bite beauty exfoliates, cleanses, and conditions the lips for a healthier look. It also comes with a delightful vanilla flavor.
Main ingredients include:
Golden Sugar: Helps in the exfoliation of the lips.
Papaya Enzymes: Serve as an enzymatic exfoliant that melts away flakes.
Plant-Derived Squalane: Moisturize and hydrate the lips.
Perfect Pout Lip Scrub by Wet n Wild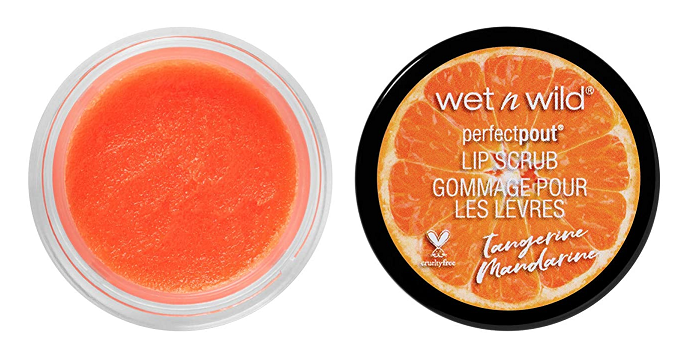 Perfect Pout Lip Scrub by Wet n Wild brings us the joy of tasty Lip therapy with amazing results.
Its highlighted Ingredients are:
Sweet Brown Sugar: exfoliates the lips.
Murumuru Seed Butter: provides excellent moisture and nourishment.
Tucuma Seed Butter: an emollient and lubricating agent
Vitamin E: to improve the texture of the lip.
The delicious range of Perfect Pout Lip Scrub by wet n wild includes Tangerine Mandarine and watermelon.
Barry M Lip Scrub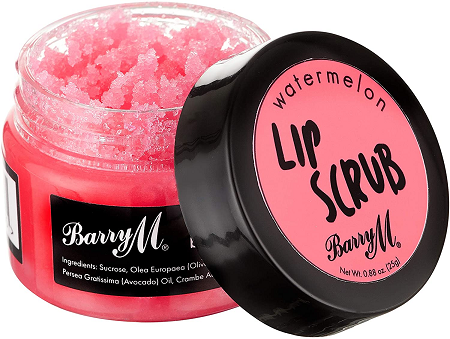 Exfoliating Barry M Lip Scrub comes in delicious pots of goodness. Its wide range of delicious flavors includes Bubblegum, apple, watermelon, mango, and, peppermint.
It provides an extra soft finish for smooth lipstick application.
Its main components are:
Vitamin E and Olive Oil: repairs damaged lips
Avocado and Jojoba Oils: to soften and hydrate.
NCLA Sugar Vegan Lip Scrubs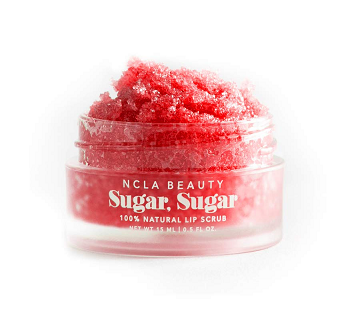 NCLA Sugar Vegan Lip Scrubs gently exfoliates and polishes the lips.
It is Formulated with
Beet sugar: Buffs away flakes
Cocoa butter and agave nectar: moisturizes and hydrates lips
Vitamin C and E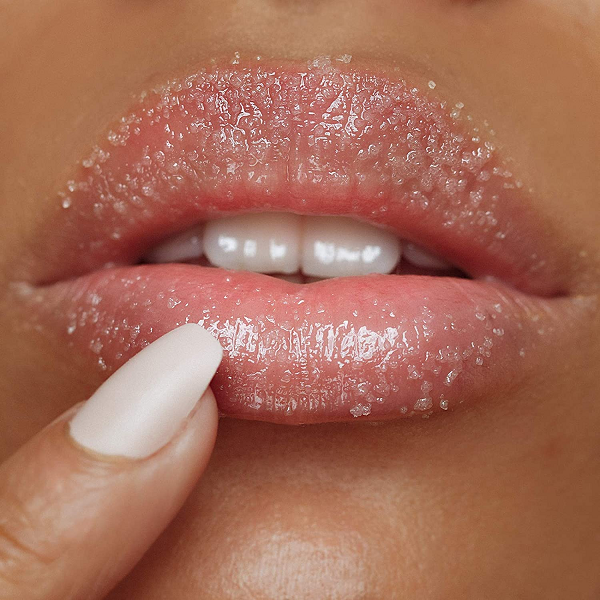 Up to 8 different choices including Watermelon, Birthday Cake, Pink Champagne, Almond Cookie, Black Cherry, Peach, Peppermint Mocha, and Red roses. Its widest range of flavors makes it one of the Best Vegan Lip Scrubs.
Lush Mint Julips Vegan Lip Scrub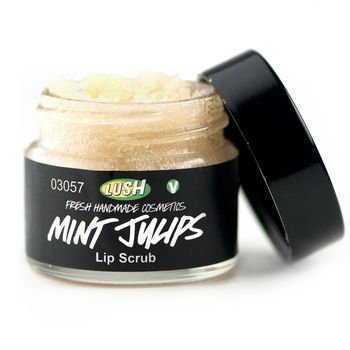 Treat your lips with Lush Mint Julips Vegan Lip Scrub to get silky soft lips.
It will leave your lips with a soothing coating of jojoba oil and a subtle tingle. It also has a subtle vanilla scent.
Its Benefiting ingredients include
Castor sugar: to buff away flakes
Jojoba oil: softens dry lips
Peppermint oil: cools and invigorates
Too Faced* Peach Lip Scrub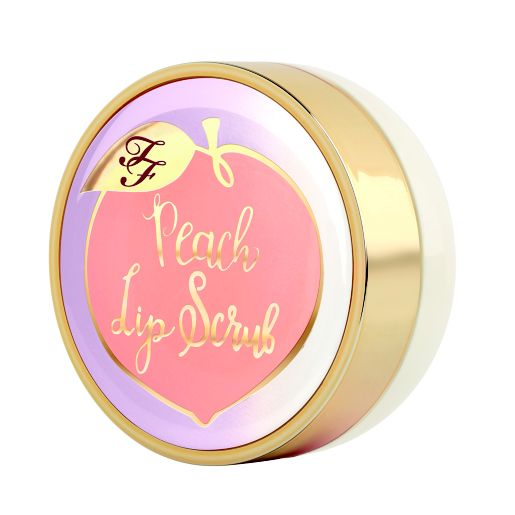 Too Faced* Peach Lip Scrub is a balmy lip scrub that buffs away dry skin smooths and softens lips. It has a tasty peach and cream like aroma.
It is a powerpack of nutritious ingredients some of them being:
Oil blends: It has a blend of various soothing and moisturizing oils including Jojoba, sunflower seed, grapeseed, safflower, and castor.
Peach and fig fruit extract, rosemary leaf extract, and many other nourishing ingredients are part of its formula making it one of the Best Vegan Lip Scrubs.
Do Kiss & Tell Vegan Friendly Lip Scrub Brush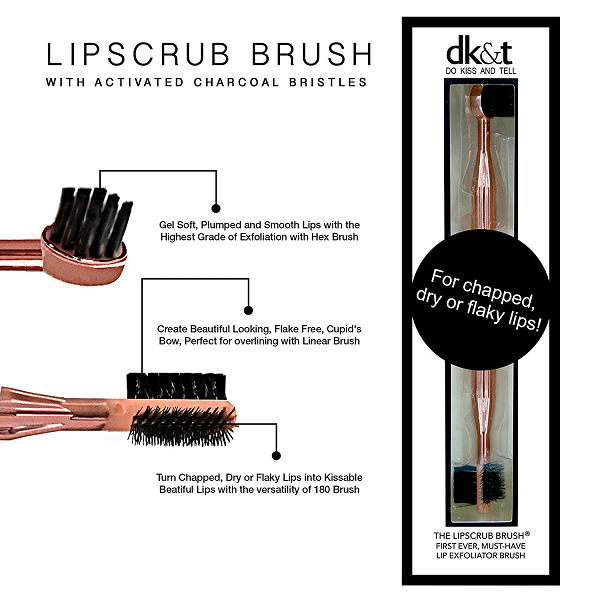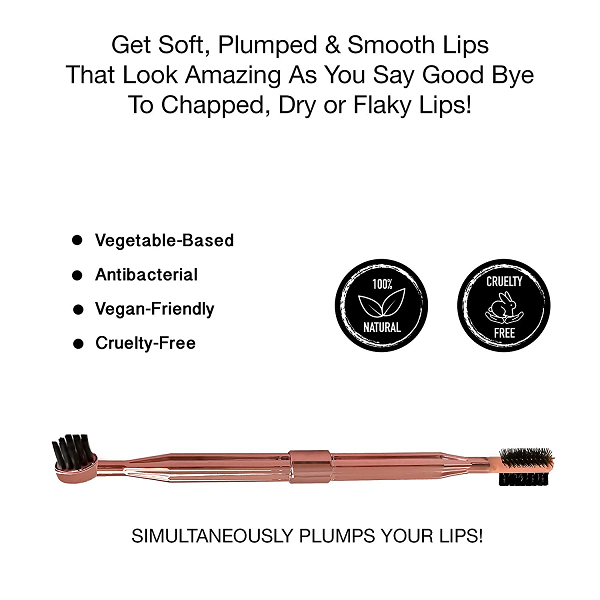 Do Kiss & Tell Vegan Friendly Lip Scrub Brush is one of its kind lip exfoliator beauty brush tool that scrubs away your chapped lips. The bristles of this 3in1 Exfoliator Beauty Tool are made of Organic Activated Charcoal. Its 3 different brush heads target different areas for the highest grade of exfoliation and provide you with plumped and smooth lips.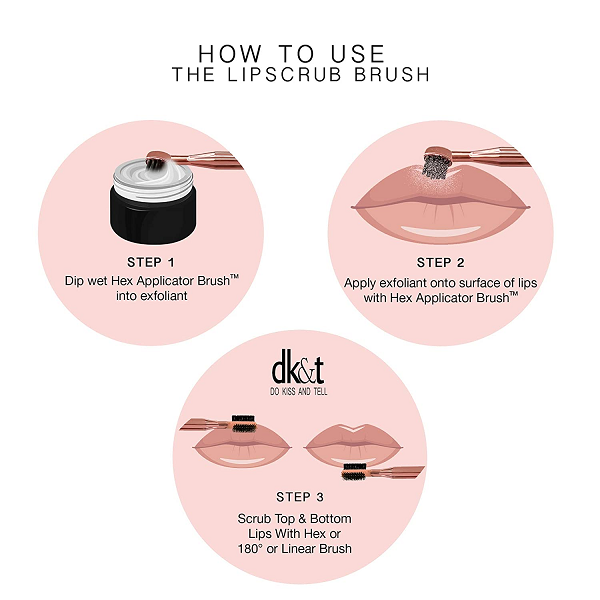 So fight out that Dryness and Dullness of your lips with the best vegan lip scrub collection that we have brought to you today and achieve soft, smooth, and plushier lips. Blog-Ox.