Today, we have come up with some of the best vegan lip balms. Veganism is an increasingly popular trend observed not only by our vegan fellows in the society but also others as it has numerous pros. Vegan makeup does not contain any animal-derived ingredients nor any harmful chemicals or metals. It means that the product is free of honey, beeswax, collagen, gelatin, cholesterol, and other such animal-sourced things. Its ingredients are derived from plants which are the richest sources of vitamins, minerals, antioxidants, and other essential nutrients.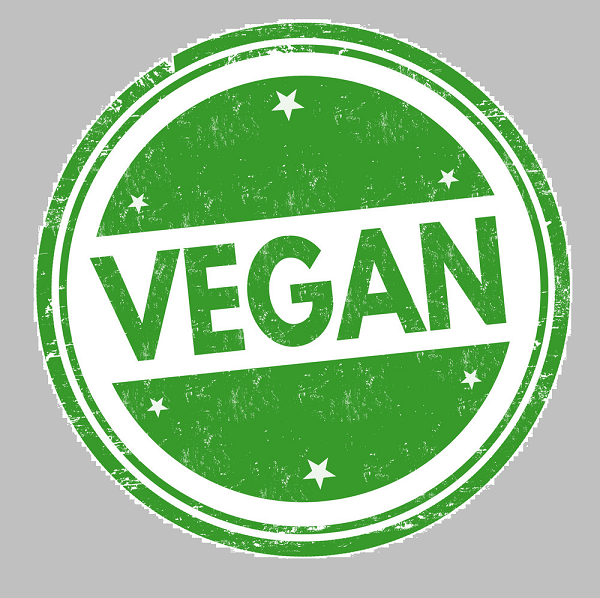 Due to its simple and natural composition, vegan makeup is more mild and safe than other conventional products. It rejuvenates and fuels your skin to stay vibrant and fresh. It works better for sensitive skin. So if your skin is sensitive then vegan products are going to be a great help for you. In addition to its physical benefits, vegan products are also eco-friendly.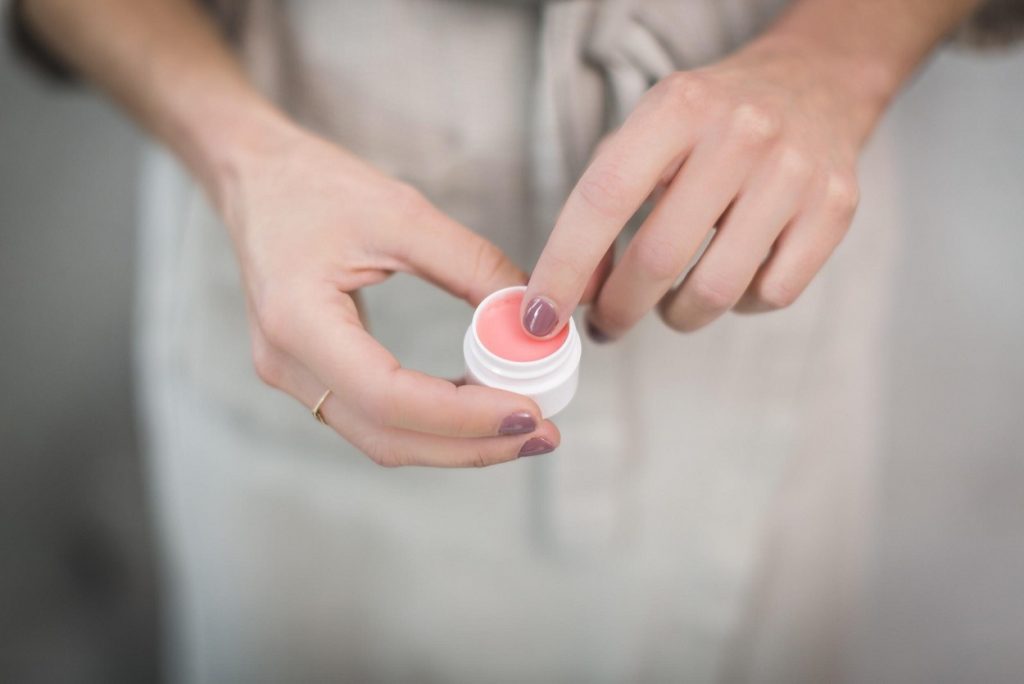 Although vegan products come with many benefits, it is often more expensive than regular makeup products, not long-lasting, and have limited colors due to the use of natural ingredients. But these are surely not that much of a problem as it has got multiple benefits to cover that up.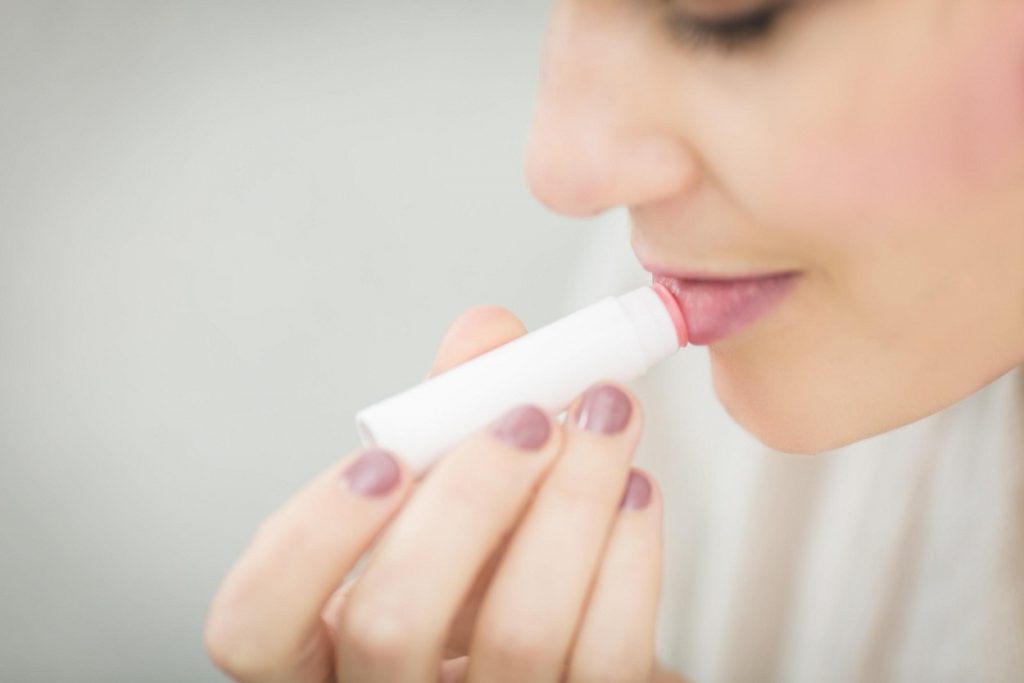 The organic lip balms included in the list below are promised to give softer, smoother, and hydrated lips. So let us get started with a roundup of some of the best vegan lip balms that are made for everyone i.e. unisex and even children friendly.
Kopari Coconut Lip Glossy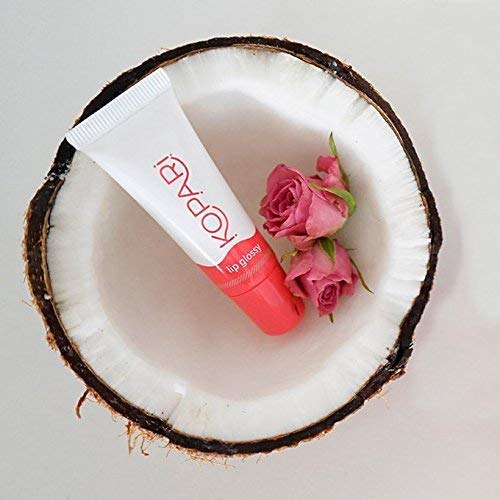 This Kopari lip balm is infused with Coconut Oil, Vitamin E, and Shea Butter Lip Gloss. It is 100% Organic, Vegan friendly, Non-GMO, and Sulfate-Free. Its main ingredient is coconut. Coconuts are full of fatty acids, antioxidants, vitamin E, and remedial proteins. Coconut is also known for its anti-aging properties therefore reviving the lips. It locks in moisture and gives lips a glossy shine.
Hurraw! Vanilla Bean Lip Balm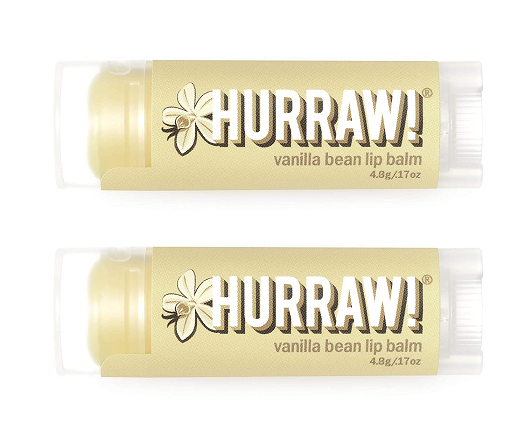 Hurraw! Balm utilizes ingredients that are plant-based and food-grade therefore they are free from any harmful chemicals and thus are Vegan friendly. They are manufactured from cold-pressing technique. Nut/seed oils and butter are mechanically extracted so that the essential nutrients and enzymes are preserved.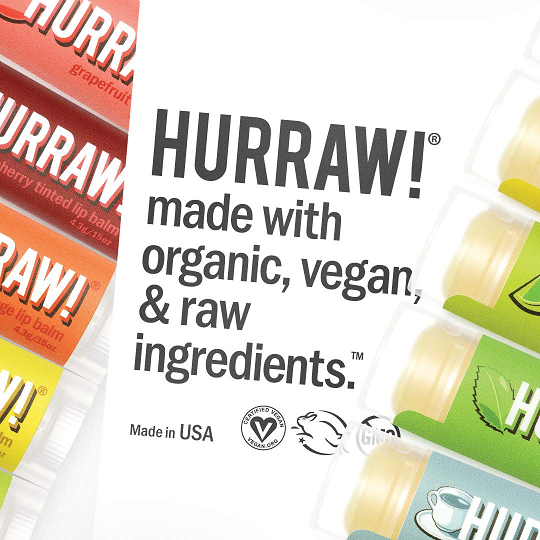 It comes in a wide range making it one of the best vegan lip balm so that you never run out of choices and always have something new to try. These flavors are as follows: Echium Raspberry (Tinted), Moon, Coconut, Vanilla, Almond, Mint, Orange, Green Tea, SPF15 Sun, Unscented, Black Cherry (Tinted), Coffee, Chocolate, Kapha, Pitta, Vata, Baobab Banana, Earl Grey, Chai Spice, Grapefruit, Licorice, Root Beer, Lemon, Lime, or Papaya Pineapple.
Agave+ Daytime Lip Balm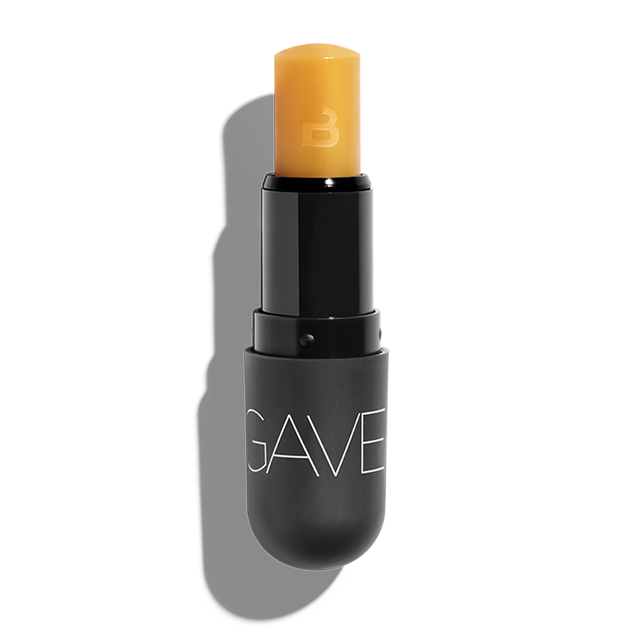 Agave+ is a vegan friendly and lanolin-free moisturizing lip balm that provides hydration for up to 8 hours. It glides on the lips with a luxuriously smooth and no waxy feel. It is formulated with nourishing agave nectar to help soothe and nurture the lips, superfood mongongo oil, and rich cocoa butter as an emollient for more hydrated and supple lips. This balm contains vitamin E and omega-6.
Eco Lips Bee Free Lip Balm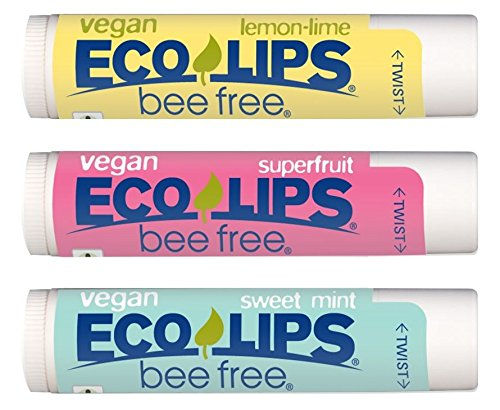 The Eco Lips Bee Free Lip Balm uses ingredients that are extracted from high quality, organic, and gm-free raw materials. It is free from harmful chemicals, petroleum, soy, and corn. It is instilled with organic candelilla wax, cocoa butter, and coconut oil, which provides extreme care for dry and chapped lips. Eco lips products are never tested on animals. Its formula features a creamy, smooth-gliding texture for comfortable wear and no waxy feel.
None of Your Beeswax Balm by Lush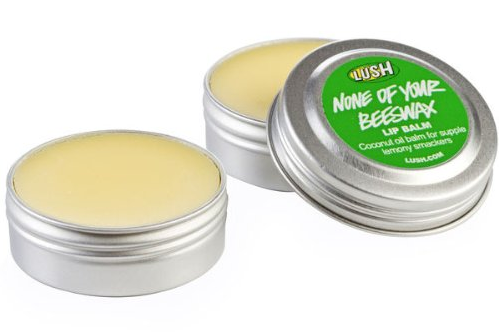 None of Your Beeswax Balm by Lush comes with an irresistible aroma of lemon curd and the delectability of vanilla and mandarin. This beeswax-free balm glides smoothly on your lips, leaving them soft and supple. One of its ingredients is fresh lemon which has aromatic compounds and is an antioxidant. Fresh lemon also cleanses and rejuvenates the surface of the lips. They have replaced beeswax with extra virgin coconut oil that softens and protects the lips, and shea butter which brings the moisture. These ingredients give the balm its iconic light texture. These properties mean that it'll lock in moisture.
Bubble Gum Lip Balm by Crazy Rumors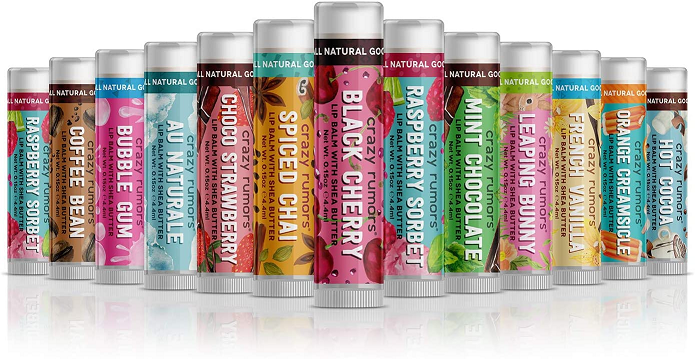 These 100% natural, vegan, and cruelty-free lip balms range from Crazy Rumors is incredibly moisturizing. They are also free from GMOs, parabens, gluten, artificial colors, and flavors. Their lip balms are infused with shea butter and jojoba oil.
Its wide range of amazing yummy flavors makes it one of the best vegan lip balm. The range includes include Black Cherry, Bubblegum, Choco Strawberry, French Vanilla, Honeycomb, Mint Chocolate, Spiced Chai, Hot Cocoa, Banana Split, and Raspberry Sorbet! Though each of them is unique in its ways, the one we suggest you try first is Bubble Gum as it will give you that teen vibe.
Superfruit Multi-Vitamin Shea Butter Lip Balm by Shea Moisture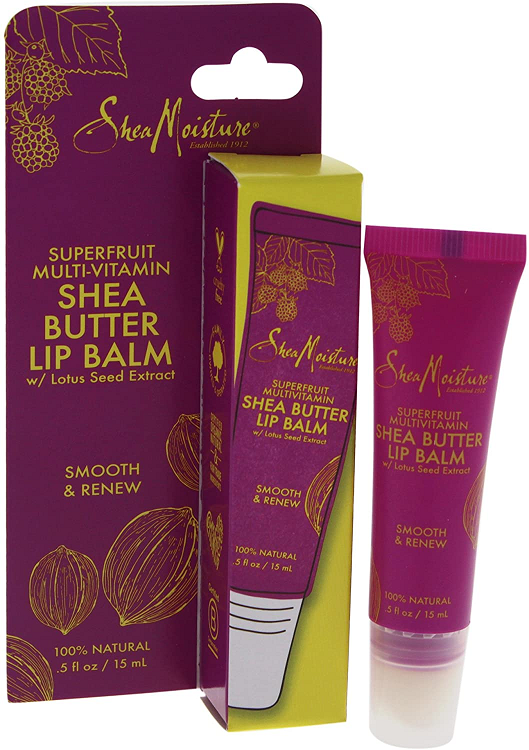 SheaMoisture's Superfruit Complex Shea Butter Vegan Lip Balm smoothes softens and gives you healthy-looking lips. Superfruit Complex is a combination of Goji, Red Raspberry, Acai, and Guava Extracts. Its ingredients serve as a rich emollient with powerful antioxidant properties to protect against free radical damage.
If you want soft supple and fuller lips then this is for you. It can be applied before going to bed at night like a hydrating lip mask, and again first thing in the morning for all-day hydration. It seeps into your skin and locks in hydration all day. However, it has a slightly gritty formula and it seems thick at first but you can use the trick of warming up the tube in your hands by massaging it before use. It will not bother you much once you see its special lip softening effect.
Original Lip Balm by Booda Butter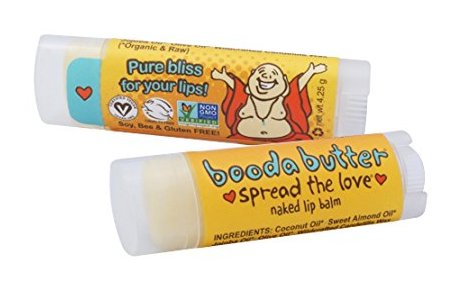 Booda Butter only uses organic ingredients that are certified vegan making its lip balms one of the best vegan lip balms. Moreover, the products are Soy, Bee, and Gluten-Free and never tested on animals. This lip balm is a game-changer. It is a plant-powered formula that is highly effective in promoting smooth, youthful lips. Its formula features a creamy, smooth-gliding texture for comfortable wear and no waxy feel. Its ingredients include Coconut Oil, Sweet Almond Oil, Jojoba Oil, Olive Oil, and Wildcrafted Candelilla Wax. Its packaging is recyclable in an oval tube so it fits perfectly in pockets.
Crystal Weightless Hydration Lip Balm Sphere by eos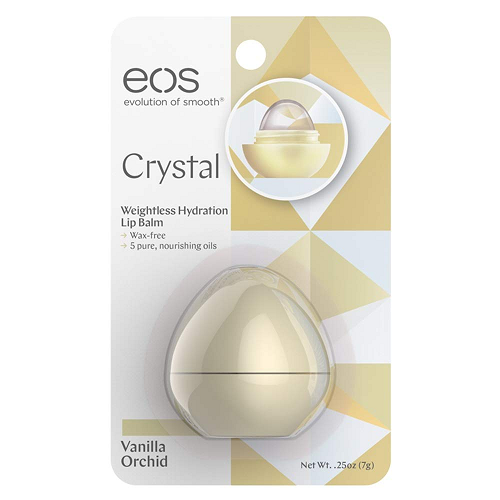 Ending our list of best vegan lip balms with this rejuvenating balm by eos. Eos Crystal Lip Balm Sphere is the only vegan-friendly range by eos. It is paraben-free, petrolatum-free, and gluten-free. It is also Hypoallergenic, not tested on animals.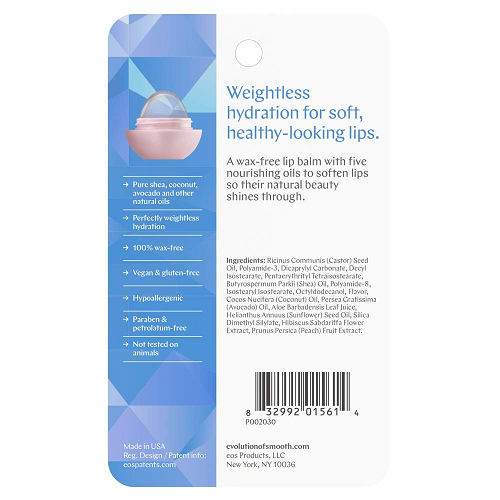 This innovative lip balm contains five natural oils (Shea, avocado, coconut, and others) to hydrate lips without the heavy feel of wax that is why it gives this balm its vegan logo and the name weightless hydration.
We hope that this article gave you the right choice of the best vegan lip balms. Blog-Ox.